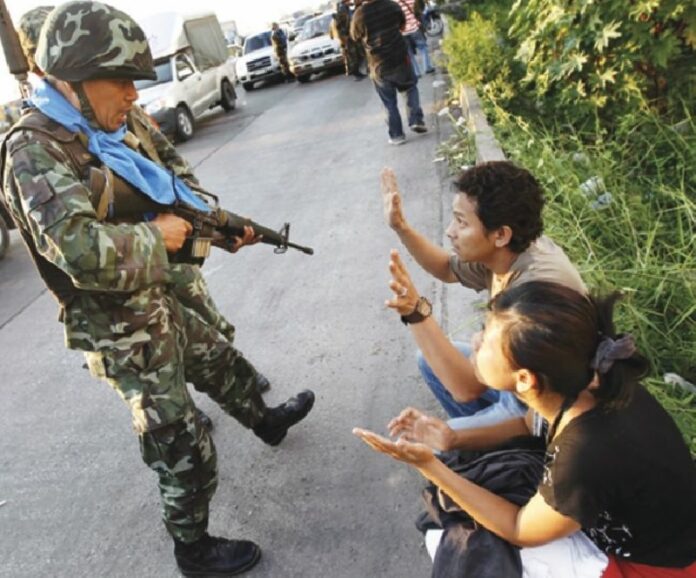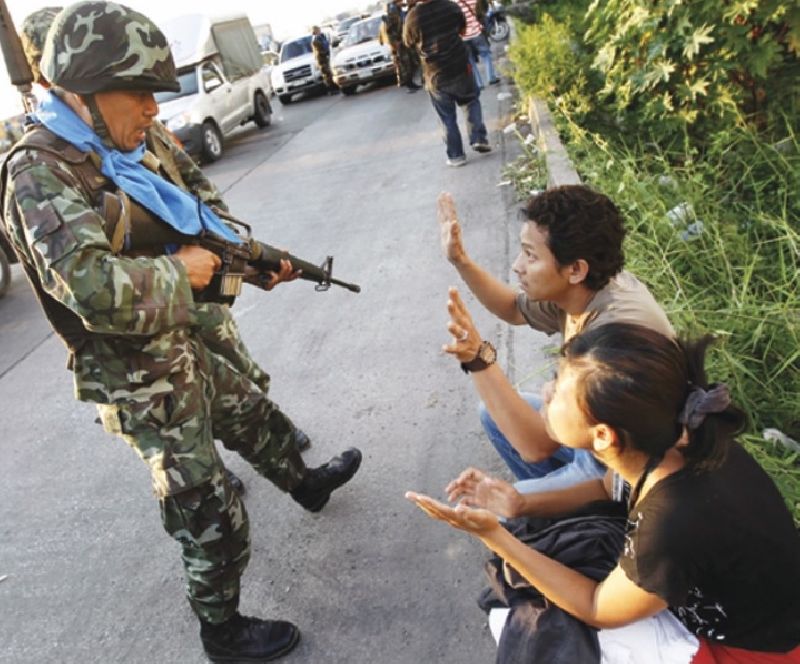 BANGKOK — Thailand's national anti-graft agency has named former army chief Anupong Paochinda as a witness in a legal case investigating the violent military crackdown on Redshirt protesters in 2010.
Panthep Klanarongran, chairman of the National Anti-Corruption Commission (NACC), said today that Gen. Anupong will testify in defense of former Prime Minister Abhisit Vejjajiva, who has been charged with "abuse of power" for ordering the crackdown that lasted from April to May 2010 and left over 90 people dead.

Redshirt protesters cheered as they stormed into the Government Complex in Bangkok, 5 April 2010.
Abhisit's former deputy, Suthep Thaugsuban, is facing the same charge.
The charges, which were filed in February, are a preliminary step in an impeachment process against the two Democrat Party politicians. If the NACC continues with the case, Abhisit and Suthep's fate will be determined by the junta-appointed interim parliament, who will vote on whether to retroactively impeach the pair and thereby ban them from political office for five years.
In addition to Gen. Anupong, then-chairman of the National Security Council Thawil Pliensri will also be summoned to provide testimony, Panthep said.
"By 21 April, NACC officials will invite the two witnesses to give their testimonies to the NACC," Panthep told reporters at today's press conference. "They can come to explain themselves on their own, or they can send documented explanations to us."
The crackdown was launched in response to tens of thousands of Redshirt demonstrators who descended on Bangkok in March of that year to demand a new election from Abhisit. On 10 April 2010, Abhisit ordered the army, which was led by Gen. Anupong at the time, to disperse the protesters on Ratchadamnoen Avenue, but the operation was called off after security officers were attacked by shadowy militants known as the Blackshirts.
Following a month of skirmishes between protesters and security officers, the Abhisit government mounted another military operation in May 2010 against the protesters. Redshirt leaders eventually surrendered and called off the protest on 19 May 2010, after at least 90 people – mostly civilians – had died.
Abhisit, Suthep, and other members of the government and the military at the time have sought to distance themselves from the fatalities and blame the violence on Blackshirt militants who were allegedly allied with the Redshirt protesters.
However, numerous court inquests from 2013 have attributed civilian deaths to soldiers, some of whom shot indiscriminately into crowds of unarmed protesters. Human rights groups have also faulted Thai authorities for failing to hold state officials accountable for the 2010 crackdown.