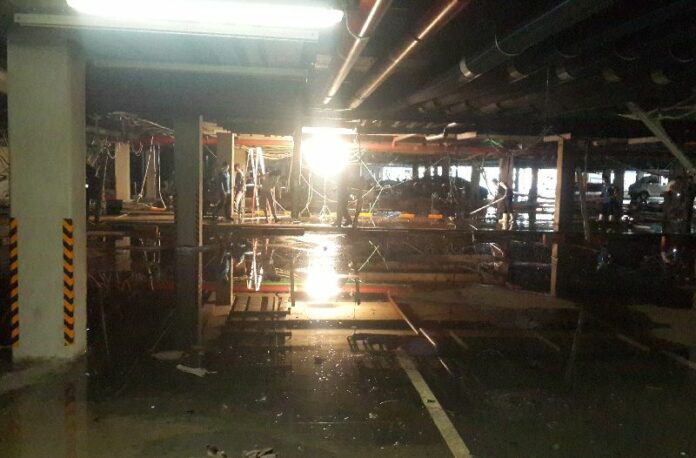 BANGKOK – Military officers have detained a Redshirt activist on suspicion of plotting a car bomb and arson attack in the southern province of Surat Thani last Friday.
Col. Winthai Suwaree, spokesperson of the ruling military junta, told reporters yesterday that soldiers arrested Narin Ambuathong at his residence in Nonthaburi on 11 April.
Col. Winthai said Narin will be held at an unspecified location for interrogation for seven days in accordance with provisions issued under Article 44 of the interim institution, which allows the military to search properties and detain individuals without court warrants, among other powers.
According to the spokesperson, Narin posted on his Facebook account on 10 April that he was planning to stage attacks in Surat Thani province to express his opposition to the junta.
"Tonight, bring it on in Surat," Narin allegedly wrote in the Facebook post, which has been widely shared on social media. "Who's with me? Let's destroy them. #opposethecoup #opposeArticle44."
On the night of 10 April a car bomb exploded in the basement parking lot of a shopping mall on Surat Thani's Samui island, a popular tourist destination. The blast injured seven people, including a 12-year-old Italian girl, according to rescue workers.
Almost simultaneously, a fire broke out at Surat Thani Cooperative Store on the mainland, though no one was injured. Police say the store belongs to Suthep Thaugsuban, former deputy chairman of the Democrat Party and leader of the street protests that sought to topple the Redshirt-backed government prior to the May 2014 coup.
The incidents came amid preperations to celebrate the Thai traditional New Year, known as Songkran, which takes place between 13 and 15 April.
In yesterday's press conference, Col. Winthai said Narin has not been formally charged with any crime. He insisted that the Redshirt activist will be treated fairly.
"I cannot reveal to you where he is being held, because this details belong to our operatives," Col. Winthai said at a press conference yesterday. "But if the suspect or any individual has doubt that Narin is not being given fairness, after the operation is completed officials will permit [the public] to investigate it."
The Redshirts are loyal to the elected government overthrown former army chief Gen. Prayuth Chan-ocha on 22 May 2014. Gen. Prayuth later appointed himself as junta chairman and was chosen to be Prime Minister by a rubber stamp parliament in August 2014.
Speaking to Khaosod yesterday, core Redshirt leader Cherdchai Tantisirin dismissed the alleged connection between Redshirts and the twin attacks in Surat Thani.
Cherdchai said it is "impossible" that Redshirt groups would manage to stage bomb attacks in Surat Thani because the province is considered the heartland of the Democrat Party.
"And there is no benefit to do it, either," Cherdchai said. "It may have been groups that are not pleased with the government or Prime Minister Prayuth Chan-ocha, or it may have been people who used to cheer him, and are now disappointed. Why would Redshirts do that?"
Link to southern insurgency dismissed
The military junta has also says the incidents are not related to the ongoing insurgency in the southern border provinces of Pattani, Yala, and Narathiwat, where shadowy Islamic militant groups have been battling security forces to create a independent state for the last decade.
More than 6,200 people have been killed in the region, known as the Deep South, since the secessionist violence broke out in early 2004.
"I am confident that the motive behind the attacks is not to expand the violence from the three southern border provinces," said current chief of the Royal Thai Army, Gen. Udomdet Sitabutr.
Although he confirmed that the vehicle used in the car bomb was stolen from Yala, and that security officers have not discounted any possible motive in their investigation, Gen. Udomdet said southern insurgency is not considered the most likely cause.
"It may have been an issue of political discontent," he suggested.
In a press conference yesterday, Col. Winthai, the junta spokesman, similarly denied that separatists were behind the attacks in Surat Thani.
"I can confirm to you that it is not an expansion of the staging area by insurgent groups in the three southern border provinces," Col. Winthai said, adding that security officers will step up security measures to prevent any other incidents in the future.
For comments, or corrections to this article please contact: [email protected]
You can also find Khaosod English on Twitter and Facebook
http://twitter.com/KhaosodEnglish
http://www.facebook.com/KhaosodEnglish