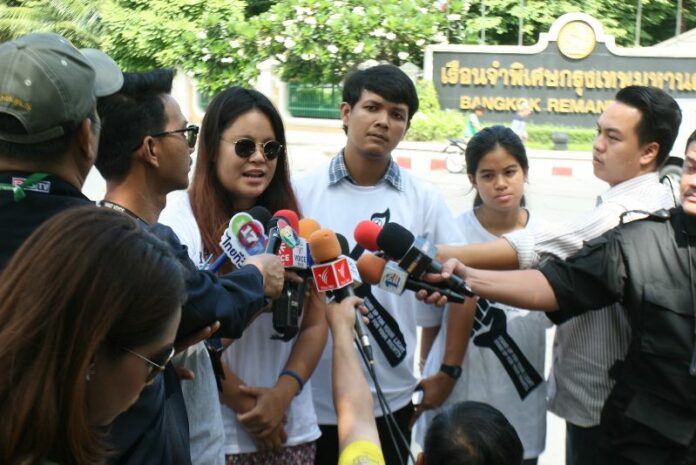 BANGKOK — Thailand's Minister of Justice has defended the decision to separate thirteen pro-democracy activists held in prison into different sections, which the activists say is an effort to puncture their morale.
Gen. Paiboon Kumchaya said the decision made by Bangkok Remand Prison was completely "in accordance with steps and regulations of the prison."
"For the first few days, inmates stay in Section One, and then they go through the categorizing procedure," Gen. Paiboon told reporters.
"Each person is categorized and separated into different sections. According to regulations, people in the same [criminal] case are not held together in the same area."
The thirteen male activists are being detained in Bangkok Remand Prison, while another 22-year-old female activist is being held at a separate prison for women.
All fourteen – eleven of whom are university students – are facing up to seven years in jail after they were arrested one week ago on charges of violating the junta's ban on protests and inciting unrest with a peaceful pro-democracy demonstration. Bangkok's martial court ordered the fourteen to await trial in prison.
The thirteen male detainees were initially held together in prison's First Section, where all newly-arrived inmates are kept, but were separated on the evening of 1 July. The activists' lawyers have expressed concern that the separation will make it more difficult to arrange meetings with the group.
Gen. Paiboon also said he has instructed Witthaya Suriyawong, the chief of Corrections Department, to inform the thirteen activists that they are eligible for the Ministry of Justice's fund to post bail.
"They can have their relatives and parents file for the bail fund," he said. "But if they don't want to post bail, that's also fine. The Ministry would hold it that we have already done our duty."
Speaking to Khaosod at Bangkok Remand Prison yesterday, the thirteen activists repeated their resolve not to post bail because they do not accept the military court's authority to try them.
Thailand's junta granted military courts jurisdiction over all "national security" cases shortly after seizing power in a coup on 22 May 2014.
The thirteen men also had their heads shaved by the prison barber in a show of unity against the prison's separation order.
"I believe it is a direct order from the NCPO [the junta] to stop us from talking and consulting with each other, and to pressure us into requesting a bail release," said one of the activists, Rangsiman Rome, through glass in the prison's visiting room. "But we insist that we will not post any bail, because we are confident that we didn't break any laws. If they want to release us, they have to release us as innocent people."
Witthaya, the Department of Corrections director, said separating suspects is standard practice.
"Let me insist that this separation of the students is not a special case," said Witthaya. "New inmates keep arriving in Section One every day, and there are few officials to take care of the prisoners. But once they are moved to new sections, there are more officials to take care of them. There's also CCTV monitoring safety of the prisoners 24 hours a day."
In a statement released yesterday, Amnesty International called the 14 activists "prisoners of conscience who have been stripped of their freedom for excercising their human rights in a peaceful way."
"We urge authorities to release the 14 students immediately and unconditionally," the statement said. Amnesty International also demanded that "Thai authorities repeal or amend any laws and orders aimed at restricting the exercising of rights and freedoms to peaceful assembly."
The United Nations, European Union, and Human Rights Watch have also publicly condemned the case this week and urged Thai authorities to swiftly drop the charges.
Related coverage:
One of 14 Jailed Activists Will be Transferred to Prison Hospital, Official Says
Family of Imprisoned Anti-Coup Activist 'Intimidated' By Soldiers