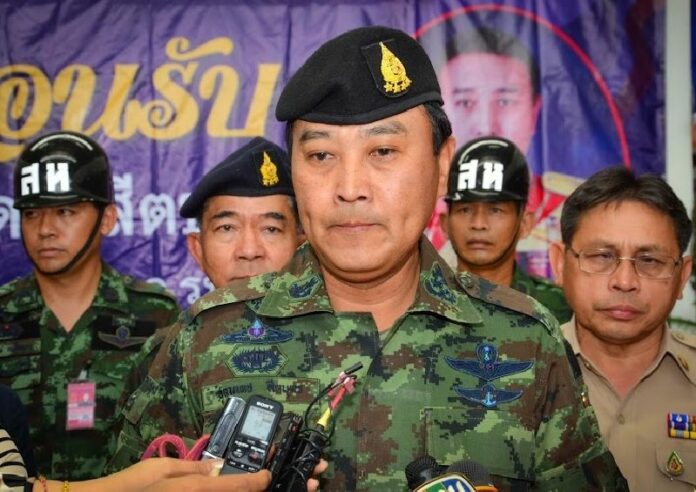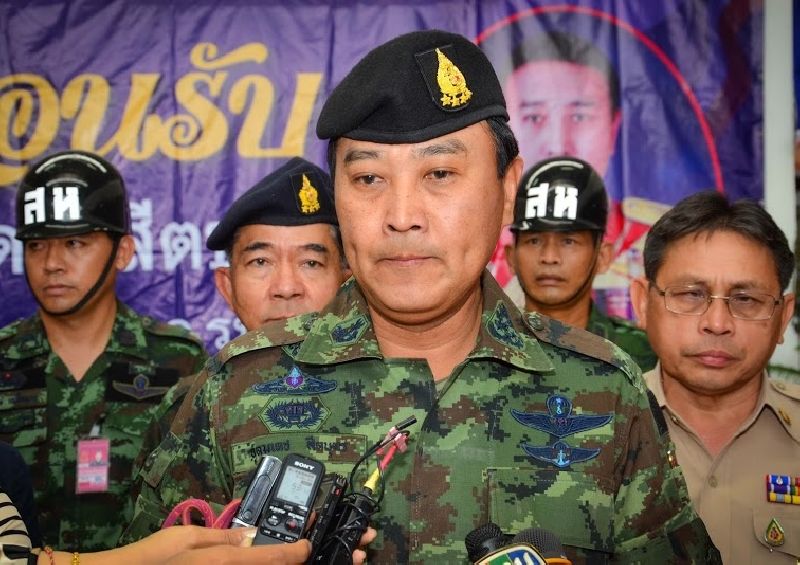 BANGKOK — Thailand's army chief said today its plan for new elections may be postponed if unspecified events take place.
Repeating assertions the military would adhere to its "road map" for a return to civilian rule, Gen. Udomdet Sitabutr today indicated exceptions were possible under certain circumstances.
"But some parts of the road map may be extended in their time frame, because some events may take place," Udomdet, who also serves as secretary-general to the ruling junta, said at an army academy in Bangkok today. "However, everyone is trying their best, and we will proceed [with the road map] in the best manner."
Udomdet was responding to conservative activist Suthep Thaugsuban's recent proposal the junta should indefinitely postpone new elections until the process of national reforms is completed first.
READ: Suthep Stresses 'Reforms Before Elections,' Unveils Plans for New Foundation
"That opinion is a personal one. We have our own procedures for accepting or rejecting those opinions," he said of Suthep's proposition. "The prime minister has always insisted that everything has to be in accordance with the road map."
However, Udomdet added that if certain events were to transpire, the military might remain in power longer. He did not specify what those events might be.
Under the current road map announced by junta chairman and Prime Minister Prayuth Chan-ocha, who seized power from an elected government in May 2014, a referendum on the new constitution will take place in January 2016, and a new election will be held in September 2016, so long as the public approves the charter drafted by junta appointees.
But Suthep, who spearheaded the anti-government protests which paved way for the military coup, said Thursday he and his supporters "want see this government successfully reform the country before any election, no matter how long it takes."
Suthep Thaugsuban raises his fist during a street protest in Bangkok in this January 2014 file photo.
Asked whether the election would now be postponed to 2017, Gen. Udomdet replied, "I have to calculate the number in detail first. If I answer you now, it may be inaccurate."
After staging the coup, the junta first promised an election would be held in late 2015. The time frame was later postponed to early 2016 and again to late 2016.
Speaking to reporters today, Gen. Prayuth said that Suthep and his foundation, which has the same leadership and uses the same language as the protest movement he led before entering the monkhood, are free to express their opinions, as long as they comply with the laws and refrain from causing conflicts.
"Everyone who comes out to do something has to be under the rules and laws, which clearly state what can and cannot be done these days," Gen. Prayuth said at Government House. "He [Suthep] has said things and expressed support for me, and I thank him as a person, because I have known him for a long time."
Prayuth nonetheless encouraged Suthep, a particularly polarizing character among the kingdom's outsized political personalities, to refrain from stirring up dissent.
"But I would like to ask him not to cause any more conflicts," he added. "Today, I am a referee. I have to be a fair referee."
Gen. Prayuth has yet to directly address Suthep's proposal for "reforms before election."
"What does it have anything to do with me? It's the business of the foundation," he said Sunday. "They can do things, but [I can't let them] break any laws, because my job is to enforce the laws, enforce the rules, with the same set of laws."
Leaders of the Redshirt movement were incensed when the junta allowed Suthep to hold a press conference last week and accused it of practicing a double-standard by silencing only those on one side of the political divide.
Army chief Gen. Udomdet dismissed those allegations, saying the junta was not "giving weight" to Suthep's proposal or taking sides. He said it came down to the quality of their opinions.
"If they are good, it's fine. If they are not good, we will talk with them and reach some understanding," he said. "The NCPO [the junta's National Council for Peace and Order] has been doing this all along."
Gen. Udomdet added, "I want all sides to be assured that the security force is treating every side equally."
Related stories:
Redshirt Leaders Vow Response to Suthep Speech
Govt Officials React to Suthep's Return to the Spotlight
Interim Parliament Chairman Rejects Suthep's Call for 'Reform Before Election'
For comments, or corrections to this article please contact: [email protected]