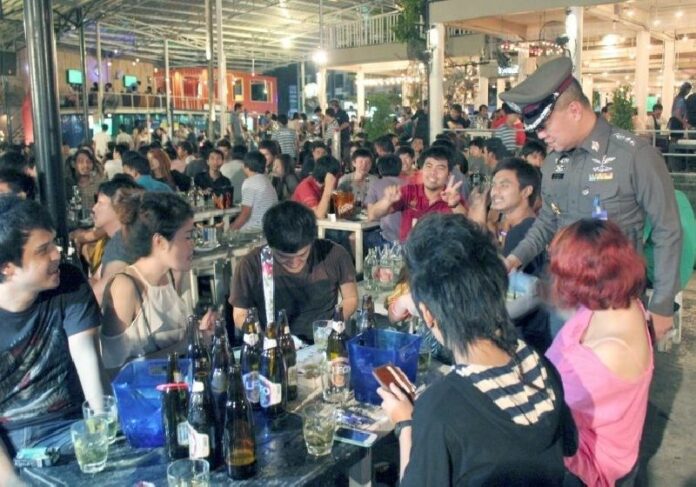 BANGKOK — Thailand will go back to the drawing board with its unilateral ban on sales of alcohol near schools, while leaving it on the books as vaguely written for selective enforcement based on the "judgment" of law enforcement officers.
Two weeks after the military government issued two confusing orders – one banning sales within 300 meters of some schools and universities and a second prohibiting all sales "in the vicinity" of all school property, a deputy prime minister said a committee will spend six months deliberating what "vicinity" means.
"There is still a point that we have to define, which is the word 'vicinity," Deputy Prime Minister Yongyuth Yuthavong said today. "What does that mean? The committee is collecting opinions from relevant agencies to reach a clear understanding … It will take about six months."
The former of the two orders, which had yet to go into effect since being signed on 20 July, will be indefinitely suspended. The latter, issued by fiat by the junta to immediate effect on 23 July, will remain the law of the land while its implementation is studied.
"In the meantime, security officers will have to exercise their judgement, based on appropriateness of the situation," Saman Footrakul, director of the Alcohol Beverage Office, told reporters today.
Agencies involved in working out the details include the Royal Thai Police, Ministry of Public Health, Excise Department, Ministry of Finance, Ministry of Education, and Ministry of Interior Affairs, Saman said.
Thanakorn Kuptajit, president of Thai Alcohol Beverage Business Association, said the decision to leave enforcement up to the judgment of law enforcement officers was troubling.
"When it comes to legal action and criminal laws, the words 'exercise of judgment' are very scary," he said. "Because we have different opinions and judgments. It will breed different standards and unfairness."
During the 180 days while the law's implementation is studied, he said security forces should refrain from closing any bars until they receive clarification. "As far as I have been reading news, the [junta] never explicitly told officers to shut down bars."
In the wake of the order, several bars including two near Rangsit University in northern Bangkok were raided and shuttered, while officials elsewhere in some other parts of Thailand hand-delivered orders for places to close.
The moment it went into effect, the law enacted on 23 July immediately created dry spots throughout the capital, from luxury malls such as Siam Paragon and CentralWorld to red light areas such as Soi Cowboy. It effectively imposed prohibition in villages throughout the kingdom where most everything is near a school.
It came as a great surprise to most everyone and seemed all but unenforceable. Accordingly, it was all but ignored except for those few cases of selective enforcement.
The law was especially surprising because it landed a few days after another decree had been issued by from Prime Minister Prayuth Chan-ocha on 20 July.
That decree, which was more specifically constructed to ban sales within 300 meters of certain schools and carried exceptions, now effectively goes away.
It wasn't long before the military government first back pedaled from the ban. Within days of its enactment, Justice Minister Gen. Paiboon Koomchaya went from supporting its expansion to 500 meters from 300 meters to saying it would be shelved for six months of study.
On 27 July, Paiboon told the media the government would use that time to map out new entertainment zones to clarify where alcohol could and could not be sold.
Today, Deputy Prime Minister Yongyuth said the reason Prayuth's 20 July decree was suspended was because it might conflict with Prayuth's sweeping ban of 23 July.
"We have to go back to deliberate on and study it again," he said.
For comments, or corrections to this article please contact: [email protected]