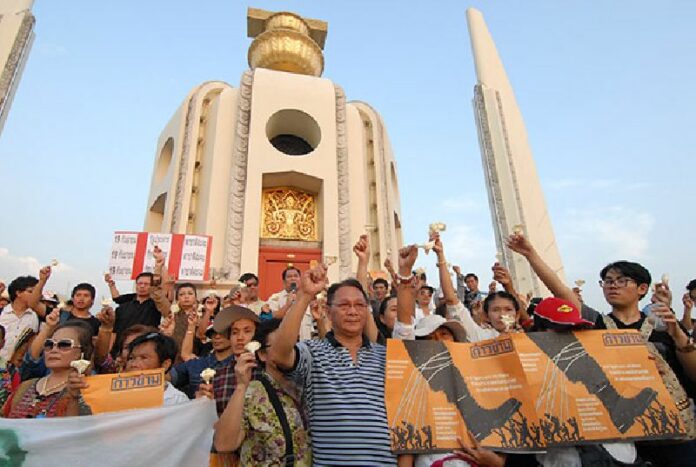 BANGKOK — Thailand's ruling military junta may retroactively charge activists who defied the regime's ban on protests to stage a demonstration Saturday in Bangkok.
Junta deputy chairman Pravit Wongsuwan said yesterday that security officers collected photographs and videos of the march at Democracy Monument and will file charges as soon as they deem any actions at the march to be illegal.
"We can't just let anyone come out to protest. Whatever is wrong is wrong. We have to stick with the laws," said Gen. Pravit, who also serves as minister of defense and deputy prime minister.
The march was organized by anti-junta group New Democracy Movement to mark the ninth anniversary of the coup that removed a previous elected government in 2006. The military would go on to stage another coup in May 2014, bringing the current junta to power.
The New Democracy Movement last night claimed to have received from a source a list of those under scrutiny for the demonstration.
"The list includes human right activists, families of those who were killed during 2010 crackdown, academics and students," a member wrote on Facebook in English. "Predicted to be prosecuted in military court after the junta leader return from abroad."
The list includes demonstration organizers Siriwit Serithiwat, Rangsiman Rome and Chonthicha Jangrew. It also included Human Rights Watch Thailand coordinator Sunai Phasuk and Thammasat Associate Professor Sudsanguan Suthisorn.
Since the coup, the junta has placed a stringent ban on protests any public challenges to its grip on power. Some violators of the ban have been sent to stand trial under martial court, including the 14 leaders of the New Democracy Movement, who are facing possible jail term of seven and a half years for leading a protest against the junta in June.
The junta sent a letter to the activists warning them not to go ahead with the march on Saturday, which the organizers ignored. Police were dispatched to observe the protest, which dispersed peacefully at around 9.30pm without incident.
Pravit said all dissidents should refrain from staging any protests until a civilian government is restored – scheduled to be in June 2017.
"We are going through a transition period to an absolute/complete democracy," Pravit said. "Therefore, I'm asking for a little time. Anything that may cause conflict – don't do it. Please, I beg you. Give us a little more time. We won't take long. There will be an election soon."
Speaking to reporters yesterday, junta chairman Prayuth Chan-ocha lashed out at the New Democracy Movement, accusing them of being troublesome youngsters.
"We are bringing order to this society, why are they opposing me? What were they doing before 22 May?" Gen. Prayuth quipped. "I'm worried for the future of these children. Some of them haven't even finished classes. Their parents must be in pain."
To reach us about this article or another matter, please contact us by e-mail at: [email protected].