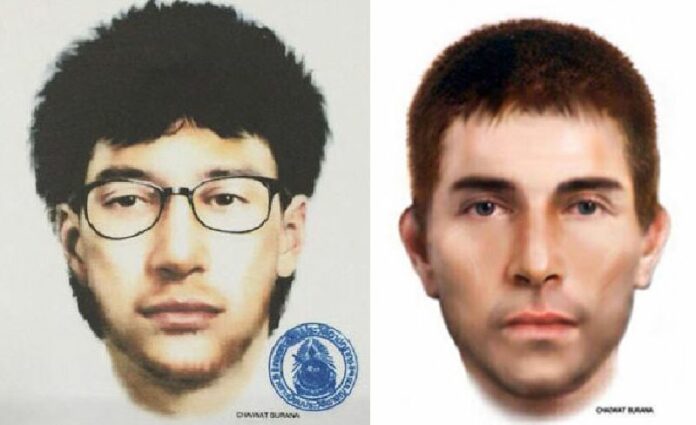 BANGKOK — Thai police have not confirmed whether two men arrested in Malaysia are the principal suspects sought in last month's bombing of Bangkok's Erawan Shrine.
News accounts have fueled speculation two men taken into custody Saturday in Malaysia are the so-called "yellow shirt man" suspected of planting the bomb at the shrine and "blue shirt man" thought to have ditched another bomb near Sathorn Pier, but Thai police officials today said they have yet to confirm those suspicions.
---
Interactive: Who's Who in the Bangkok Bombing Investigation
---
Royal Thai Police Chief Somyot Pumpanmuang repeated today that he can not "confirm or explain" any information about the reported arrests.
"At this point, I cannot confirm that information, because I have not been contacted. At the same time, we don't feel like we can confirm this information … But in details, I cannot explain or confirm any information."
He also told reporters no police have been dispatched to Malaysia.
"There is no Thai police officer in Malaysia for coordination of this investigation, because in order to send any official or any agency, there must be a request first."
The men were arrested during a search of apartments in Kuala Lumpur conducted at the request of Thai authorities, according to a report from The Star Online.
Malaysian authorities have sent photographs to Thai police of the two men, according to The Star, which would be shown to a suspect already in custody – Chinese national Yusufu Mieraili. Thai police have said Mieraili confessed to passing the bomb to the Erawan Shrine bomber prior to the blast at Hua Lamphong Railway Station.
Yesterday investigators issued a new composite sketch of the blue-shirted man, who was seen dropping a package into a canal near a busy pier minutes after the 17 Aug. blast which killed 20 people and injured more than 150 others. No one was injured by an explosion at the same location the next afternoon.
Last week a Pakistani and two Malaysians were also taken into custody in Malaysia on a tip from Thai police. They were suspected of being linked to the attack and were being interrogated by Malaysian police.
No one has taken credit for the attack, but a number of Turkish and Chinese nationals have fallen under suspicion and Thai police have gone as far as to confirm it was related to the smuggling of a Muslim majority ethnic group from the Chinese province of Xinjiang.
In July, Thailand deported 109 Uighurs against their will back to China, inviting international condemnation and enraging those sympathetic to their cause in Turkey, where nationalists stormed a Thai consulate in response.
Related stories:
Turkish Suspect Denies Involvement in Erawan Bomb Attack
First Suspect Charged in Erawan Shrine Bombing
Mounting Evidence Links Bombing to Turks, Uighurs
Police Search for More Suspects After Arrest
Floundering Bomb Investigation Deepens Doubts About Competency
No Longer Whole, a Family Buries its Dead and Waits for Answers
Man Dropped Bag into Water Night Before Sathorn Pier Blast
Seen Often on Sathorn 10, Suspect Thought to Use Fake Turkish Passport
Bangkok Shrine Bombing: Those Who Died
Despite Lack of Evidence, Thai Media Points Blame at Uighurs
Tourists Narrowly Escape Second Bangkok Bombing in 24 Hours
Bangkok Shrine Bombing: Police Hunt Backpack Man
Tourists Among 19 Killed by Bomb at Bangkok's Erawan Shrine
To reach us about this article or another matter, please contact us by e-mail at: [email protected].