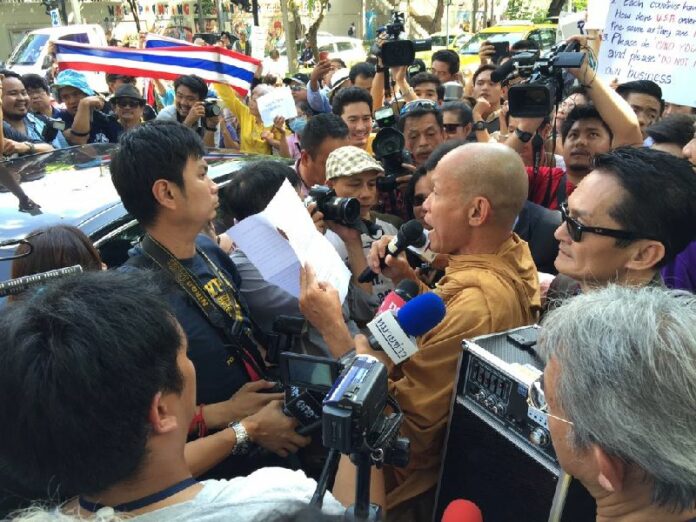 BANGKOK — For the second time in two months, ultraroyalist monk Buddha Isara led protesters to the U.S. Embassy on Friday, this time to demand the removal of newly appointed Ambassador Glyn Davies for criticizing Thailand's royal defamation law.
Responding to concerns Davies expressed Wednesday about record prison terms that have been handed down in recent months, 59-year-old Buddha Issara and his hardline royalist supporters converged on the American mission on Wireless Road to urge the ambassador not to interfere in internal politics.
"Don't be ill-mannered," the monk led the crowd to chant. "Thailand is not your slave."
During a talk at the Foreign Correspondents' Club of Thailand on Wednesday, Davies said no one should be jailed for peacefully expressing their views.
"We're also concerned by the lengthy and unprecedented prison sentences handed down by Thai military courts against civilians for violating the lese majeste law," he said, according to AFP.
Lese majeste charges, which are punishable by up to 15 years in prison per offense, have multiplied since the military seized power in May 2014. An advocacy group tracking such cases, iLaw, reports 54 people have been charged of the crime under the military regime.
In August, sentencing records were broken when military courts sent two people in separate cases to prison for a combined 58 years for comments they wrote on Facebook.
Buddha Issara urged the United States to remove Davies, saying he is a chronic meddler wherever he is placed.
The monk, who rose to fame and some infamy by leading anti-government protests in the run-up t the 2014 coup, urged his supporters to criticize Davies on the Facebook pages of the embassy and U.S. State Department, to pressure them to remove him.
"Your country doesn't have the King!" Facebook user Khunmon SaeJew wrote in Thai on the embassy's page. "You have no idea how much love and loyalty we have for our monarchy."
The monk previously led a demonstration to the U.S. Embassy on Oct. 1. to condemn Human Rights Watch for calling for amendment of the law, which Thai authorities say is necessary to protect the monarchy from threats.
Related stories:
Hardline Royalists Stage Protest in Front of US Embassy
Record Sentences Today For Facebook Lese Majeste Offenses