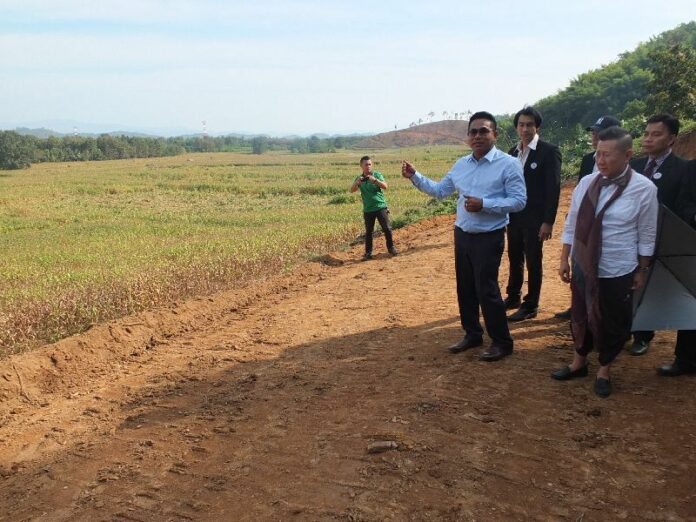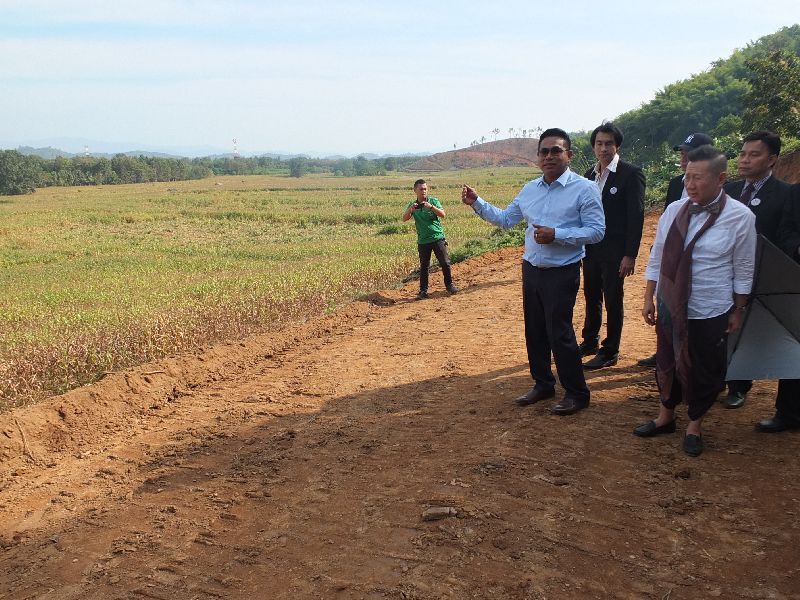 CHIANG RAI — Trin Nilprasert wants to raise the world's tallest flagpole over northern Thailand because he believes it will help end the political fractures plaguing the kingdom for almost a decade.
A day after construction of the 250 million-baht pole began in Chiang Rai province, the self-described businessman said he was inspired by national athletes wrapping themselves in Thai flags out of pride when they won medals.
"I saw Thai people hurting each other because of different political ideas. When they were angry, they hit each other with Thai flagpoles. But athletes used flags to wrap themselves to express their joy," Trin said.
It was then that Trin decided to build a flagpole – but not just any.
"I want the tallest flagpole in the world," he said.
According to Trin, he searched the internet and found that the world's tallest flagpole (171 meters) in Jeddah, Saudi Arabia. He then reached out to its builder, U.A.E.-based Trident Support, and asked them to build a somewhat larger one for Thailand (189 meters).
The problem with superlatives is they don't last long. Finish building the tallest this or biggest that, and along comes another, only slightly taller or larger.
So Trin came up with a plan to make sure Thailand's grand erection remains unsurpassed. While Russian Tsar Ivan the Terrible is said to have gouged out the eyes of the architects behind St. Basil's Cathedral, Trin settled for a less drastic measure: He made Trident, which has put up seven of the world's 10 tallest poles, promise to never build another tallest flagpole for any other country.
"This will be the last tallest flagpole for them. They will close the job with this one," Trin said by telephone today.
Trin did not say how he won that concession. Trident bills itself as "the industry's leading flagpole design, construction, and supply firm," and building giant flagpoles seems to be its sole service.
The flagpole will rise above Chiang Rai's Chiang Saen district several kilometers from the border with Laos along the Mekong River; Trin said an astrologer picked the spot based on a feng shui principle which requires a mountain and river be in the vicinity.
The force of numerology is also strong with the flagpole. Once completed, it will be 189 meters tall, the equivalent of a 63-floor building. The number was chosen because both one plus eight, and six plus three add up to nine, a lucky number in Thailand.
Trin first announced the construction of the flagpole in December, which attracted some media coverage. Construction formally began yesterday after a ceremony attended by Chiang Rai governor Boonsong Techamanisatit and a representative from Trident Support.
In an interview with Manager Online at the ceremony, Trin said the project is meant to honor the three institutions represented by Thai national flag: nation, religion and monarchy.
"Our tall flagpole would symbolize our patriotism, our loyalty to His Majesty the King and our reverence for the religion," Trin told Manager Online.
Donations Welcome
Trin said he hopes construction will be completed by 2017, in time for the modern flag's centennial. When it was known as Siam, Thailand flew a red flag with a white elephant before the royal government formally adopted the tricolor flag in 1917.
Although Trin said his company will foot the entire 250 million-baht bill, private and state sectors are welcome to contribute.
"As for money, we are ready, but if someone else wants to join the construction, they can either meet with the [Chiang Rai] governor, or submit forms to our office," Trin said. "But we are not fundraising this. We are not setting up donation boxes … we are not extorting anyone."
Nevertheless, other companies or agencies that want to organize fundraising for the Thai flag project are welcomed to do so on their own, he added.
"We will look at their intention. If they support the Nation, the Religion and the Monarchy, we will allow them to donate. If their intention isn't clear, then we won't," Trin explained.