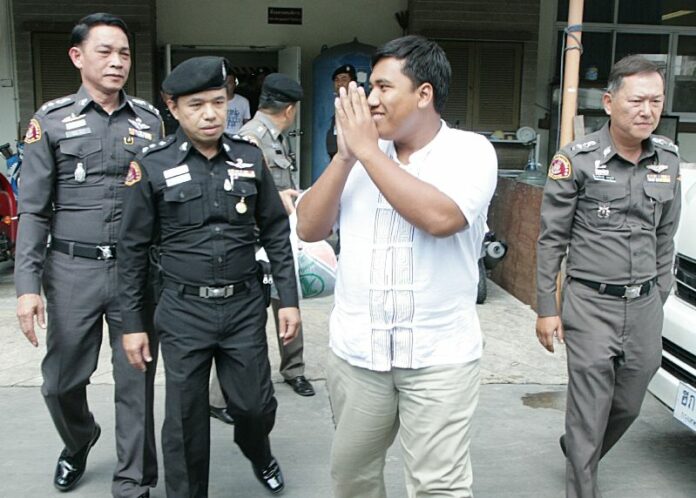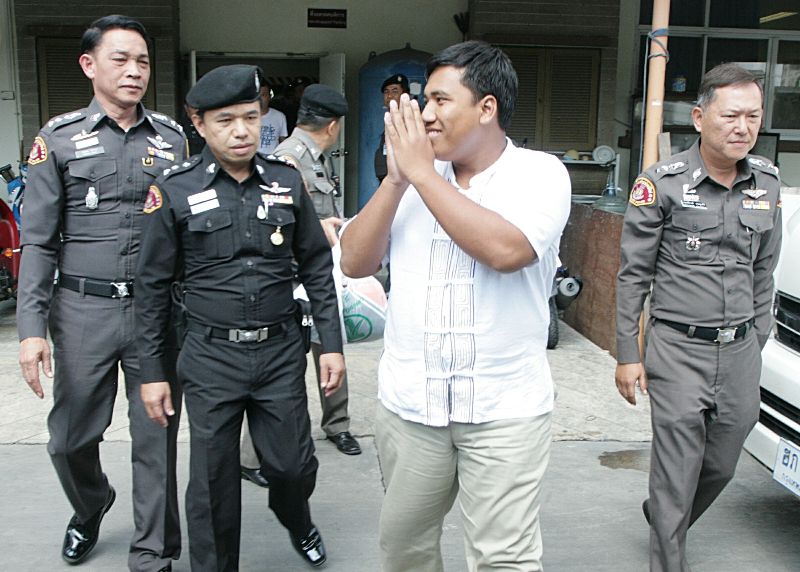 BANGKOK — A fifth pro-democracy activist was arrested today in front of the military court just moments before four other activists arrested on the same charges earlier were allowed to walk free.
The five activists were charged with violating the junta's ban on political gatherings after they attempted to organize a protest in December to highlight a corruption scandal surrounding the Royal Thai Army's billion-baht royal statue project.
The activists are Sirawith Seritiwat, Chonticha Jaeng-rew, Chanoknan Ruamsap, Korakoch Saengyenpan, and Abhisit Sapnaphapan.
Chonticha Jaeng-rew raised her fist in defiance as she was escorted from Thonburi Railway Police Station to the military court on Thursday afternoon.
Calling the legal action against them "illegitimate," the five had refused to turn themselves in, prompting the military court to issue arrest warrants on all of them last week. Sirawith was arrested last night near Thammasat University, where he is studying political science, while Chonticha, Chanoknan and Korakoch were detained this morning.
The four suspects were sent to the military court for a remand hearing this afternoon. While the judges deliberated on the prosecutor's request to imprison the defendants, security officers spotted Abhisit among a dozen or so activists who rallied in front of the court building to show support for their friends, and promptly apprehended him.
Security officers move in to arrest Abhisit Sapnaphapan, seated in black, Thursday in front of the military court in Bangkok.
Abhisit was then taken to Chanasongkram Police Station for a legal processing and was then transferred to Thonburi Railway Police Station for a formal interrogation.
Half an hour after Abhisit was apprehended, the military tribunal ruled there was no need to hold Sirawith, Chonticha, Chanoknan and Korakoch in prison as they await their trial, because police had completed their interrogations of the suspects. The four were immediately set free.
It is not known whether the judges will deliver the same ruling on Abhisit's case when he is brought to the military court. Activist group New Democracy Movement posted on its Facebook at 6pm today that police will bring Abhisit to the court tomorrow; he will spend tonight in the police station's cell room.
Failed Protest
Sirawith, Chanoknan, Chonticha, Korakoch and Abhisit were among those facing charges for staging a protest in December against what they believe to be massive corruption in Rajabhakti Park, which was built by the army between 2014 and 2015.
To bring attention to the scandal, Sirawith and other activists attempted to board a train Dec. 7 from Thonburi Railway Station bound for the park in Prachuap Khiri Khan province, but police stopped the train and arrested all protesters.
Soldiers arrested Sirawith Seritiwat on Dec. 7 shortly after they stopped his train excursion to Rajabhakti Park.
Eleven were charged afterwards with violating the junta's ban on political gatherings; since seizing power in the May 2014 coup d'etat, the military regime has imposed a ban on all forms of political activities, including protests.
Five of the eleven suspects later reported to police for the charge, while the other six – Sirawith, Chonticha, Chanoknan, Korakoch, Abhisit and Thanet Anantawong – refused to comply with the summons. For their defiance, the martial court on Jan. 13 issued arrest warrants on the six activists.
Thanet, 25, fled the country soon after the warrant was announced, though he insisted he will eventually come back to contest his charge.
To reach us about this article or another matter, please contact us by e-mail at: [email protected].
Follow Khaosod English on
and
Twitter
for news, politics and more from Thailand.