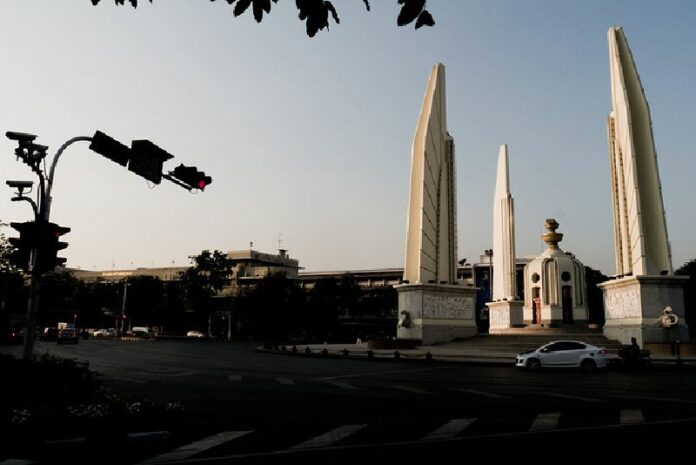 By Pravit Rojanaphruk
Senior Staff Writer
BANGKOK — Critics of the junta-sponsored draft charter say democracy will be undermined if it is approved in the national referendum slated for July while supporters insist it's designed to prevent corruption and abuse of power by politicians.
With the first draft being officially unveiled today, politicos and academics raise issues over weakening the power of voters by possibly having prime ministers they didn't choose, unelected panels with increased power to intervene in government and a new electoral system designed to ensure no political party gains an outright majority.
Unelected Prime Minister and New Electoral System
Several key points emerged from conversations with stakeholders about the second constitution to be proposed by junta-appointed drafters since the military seized power in 2014 and announced its "roadmap" to restoring democratic rule.
For one, the draft charter allows for three names, including unelected outsiders, to be nominated by each party as PM candidates.
Niphit Intarasombat, deputy leader of the Democrat Party, said that tops his list of the charter's negative aspects.
"This is unprecedented, and nowhere in this world can we find [such rules]. It allows for an outsider to become prime minister without being elected," said Niphit, adding that while it may sound innocent, it reflects a well-calculated move to pave the way for an outsider PM.
Niphit explains that in a situation where no single party is likely able to attain an outright majority, small political parties will become critical to forming coalition governments, and with that, greater leverage to get their unelected candidate accepted as PM.
"The [voting system] was designed in such as way as to ensure that no single party will ever gain outright majority in election," the deputy Democrat leader said, referring to the new system where lower house elections will use a single ballot paper for both constituencies and party-list MPs.
"Small parties will have a lot of bargaining power. They may say you have to accept our PM candidate otherwise we'll form a coalition with another major party."
Amorn Wanichwiwatana, spokesman of the junta-appointed Constitution Drafting Committee, said that misses the point of the redesigned system, which was designed to prevent parliamentary dictatorship.
"The majority must listen to the minority. It won't be majority rule," he said.
Amorn said the new electoral system, using a single ballot sheet, ensures all the votes will matter, unlike in the past when votes for losing candidates in the constituencies system would not be counted. "The government will care about all votes."
Rise of Constitutional Court and Unelected Agencies Over Elected Government
Another contentious point of the proposed charter is similar to the "Chaos Clause" blamed for helping doom the first draft rejected in September. The new draft includes increased powers for unelected bodies, including the Constitutional Court, to intervene and override an elected government.
To former education minister and senior Pheu Thai Party member Chaturon Chaisang, empowering the Constitutional Court to intervene in times of crisis undermines the balance of power between the legislative, executive and judicial branches.
"Having the power to define what constitutes a crisis and to use that power [over an elected government] is a serious dismantling of the check-and-balance system of the three branches under a democracy," Chaturon said. "In getting it to try to solve [political] crises, the court will be increasingly dragged into politics. This is outside the democratic system, and will itself more easily induce crises."
Siam University law lecturer Ekachai Chanuvati said it would undermine people's faith in the Constitutional Court. "All courts are courts of law, not courts of politics."
Defending the proposed constitution, Amorn insists such design would bring about greater balance of power. "It ensures good balance of power," he said.
Not just the Constitutional Court but key independent agencies under the constitution will also be given more power over elected government in the draft charter.
Chaturon said independent organizations under the constitution, such as the Election Commission and the National Anti-Corruption Commission, would have the power to effectively warn popularly elected governments not to pursue policies despite the fact these bodies are not elected and cannot be scrutinized.
"These organizations will play a part in making it easier to bring down governments."
Niphit expressed a similar concern.
"Independent bodies should be lower than the three branches; the executive, legislative and judicial branches; and it could stop [government policies]. This means having power over the people [who elected their representatives]," he said. "Political parties will be weakened as members of parliament can no longer directly approve budgets. It's contradictory to democratic systems where citizens pay taxes."
Spokesman for the drafters Amorn said the intention is to bust politicians who cheat.
"[It's] just like Ghost Busters," he said, referring to the 1980s Hollywood comedy.
Political scientist Vachiravit Sirachaipongkul, who is assisting the drafting process in his personal capacity and advising Amorn, said this is actually the strength of this draft charter.
"It shuts down corruption loopholes," he said, adding that anti-corruption bodies will be able to speed their work by launching investigations, unlike before when commissioners of the National Anti-Corruption Commission had to meet and give approval first.
Not all politicians see this as a negative: Democrat deputy leader Niphit agrees the enhanced role of the Constitutional Court "is positive."
Unelected Senate, Lack of Public Participation and a Less-Than-Democratic Charter
Members of the upper body, the senate, would be chosen by people representing various occupational groups under the draft laws of the land.
That's another major point of contention to a politician such as Niphat, who said the country has moved far beyond the time when people unelected senators as a norm.
"This is a regressive constitution," he said, adding that there will be conflicts with the House of Representatives.
Before such a Senate ever convenes, the draft charter process itself has been faulted as undemocratic itself for failing to involve the public or a breadth of stakeholders.
Drafting committee advisor Vachiravit conceded that lack of participation is a drawback, even to supporters such as himself.
"[The drafting process] could have been made participatory but of late, the charter drafting committee is trying to make it more participatory," he said without giving any example.
"It may also not be 100 percent democratic like those in Europe or linked with the people much, and this may be its weakness," he added. "But it's a version that is serious about corruption."
To Pheu Thai's Chaturon, it's a big problem that there's little means for the charter to be amended once it wins approval. He sees it as paving the way for more military takeovers in times of political crisis.
When Amorn, the public face of the draft document, was asked to come up with at least one negative aspect or constructive criticism of it, the drafting committee spokesman refused to commit himself.
"We have been instructed by charter drafting committee chairman Meechai [Ruchupan] not to say anything negative about the draft charter," he said.