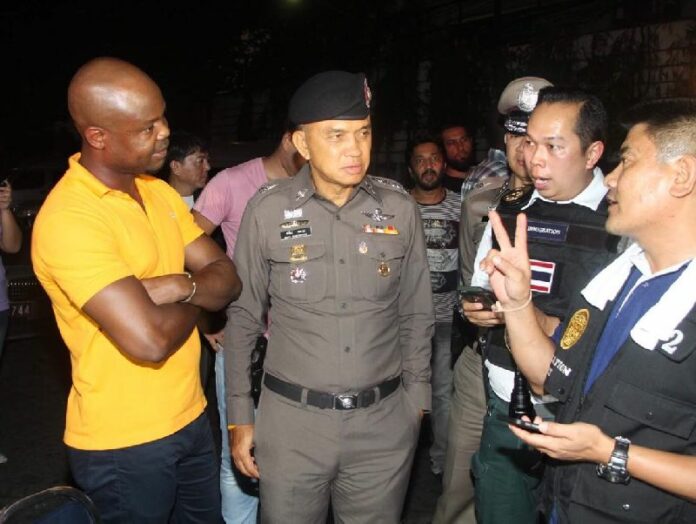 BANGKOK — Top police and government figures have denied reports a high-level fissure is about to cost the commander of Bangkok police his job.
Deputy junta chairman Prawit Wongsuwan and national police chief Chakthip Chaijinda dismissed stories they were plotting to sack interim Bangkok police chief Sanit Mahathavorn as works of fiction.
"There won't be any. We won't replace anyone. Why would we replace him?" Gen. Prawit, who holds the authority to appoint or remove police chiefs, told reporters Tuesday. "As for this rumor, how it started, I don't know. I don't know who came up with it. Now that the media knows it's a rumor, why would you report it as news?"
Reports about Sanit, who is described as a favorite of junta chairman Prayuth Chan-ocha, appeared Saturday and Monday.
Chakthip also dismissed the notion as unfounded rumor.
"This is wasting my time, I'd rather focus on work. There is much work to do," Gen. Chakthip told a reporter Monday who had asked if he would track down the rumor's source.
Matichon reported on Saturday of an imminent showdown in the top echelon of the police. The article identified Sanit and Chakthip as close aides of Prayuth and Prawit, respectively. The piece also hinted that Prayuth and Prawit were battling for control over the police force via their proxies: Sanit and Chakthip.
"Widespread rumors of the national police chief and Bangkok police commander having each other's positions sabotaged is rocking the khaki circle again, and this time it is extraordinary!" the Matichon article said.
A similar report appeared on Manager's Monday edition in an article titled "Examining the Strength of the Proxy War of 2 Ps."
"This has become a proxy war of those in power," the article said. "Police Lt. Gen. Sanit 'the Old Uncle' Mahathavorn … has Gen. Prayuth Chan-ocha, Prime Minister, as his shadow, while Police Gen. Chakthip Chaijinda … has the shadow of Gen. Prawit Wongsuwan, deputy prime minister, as the one who dictates and pushes him into the battle."
There have been persistent rumors of a conflict between Prayuth and Prawit in some media and activist circles for months, leading to cycles of speculation about a possible counter-coup against Prayuth by Prawit. Manager published an article voicing such speculation in January.
In Monday's news conference, Chakthip said there's no factional dispute, and that he respected Sanit like his own sibling.
"There's nothing. I am [like] a younger brother, how can I pick a fight with anyone?" the national police chief said.
Related stories:
Cops Hunting Down Counter-Coup Rumormongers
Counter-Coup Rumor Suspect Charged With Lese Majeste
Teeranai Charuvastra can be reached at [email protected] and @Teeranai_C.