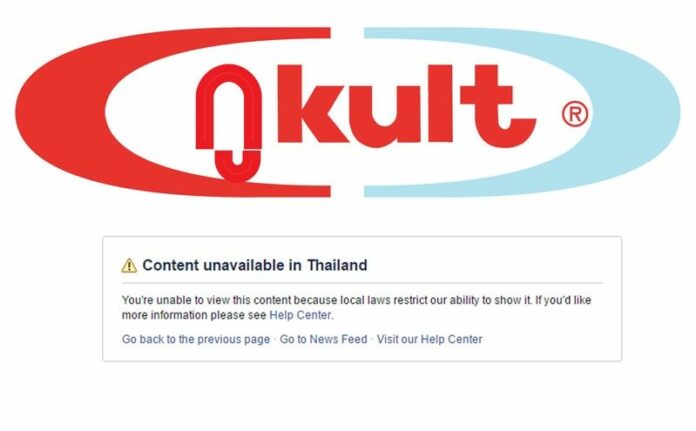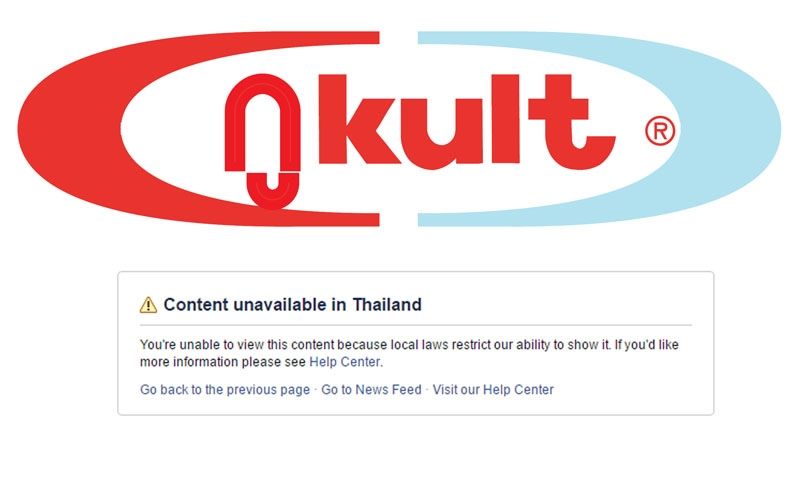 BANGKOK — In the first apparent acknowledgement it is cooperating with Thai authorities in censoring content, Facebook has blocked its users in Thailand from accessing a page satirizing Thailand's Royal Family, citing local laws.
Facebook users in Thailand on Thursday discovered that they can no longer view a satirical page which occasionally lampoons the monarchy.
Facebookers Panic Over Fears Junta 'Hacking' Accounts
"You're unable to view this content because local laws restrict our ability to show it," the message reads when attempting to access the page of GuKult.
"Be careful in your activism. Right now, Facebook may start to cooperate with Thai government," wrote Nithiwat Wannasiri, an activist and monarchy critic now living in exile who first publicized the discovery.
Facebook has long been considered by many Thais as the last haven of free speech in Thailand, where sensitive topics such as the monarchy are rarely discussed openly. Defaming the royal family is illegal.
The law known as lese majeste, which has been more broadly applied since the May 2014 coup, carries a hefty penalty of 15 years in jail.
As of this time, no other Facebook Pages appear to be affected. Facebook could not be immediately reached for comment.
Blocking of GuKult also came at a time when activist communities in Thailand are struck by panicked speculation the Thai military regime can somehow get its hand on private chat logs between two Facebookers abducted by soldiers on April 27.
The two suspects, Nattatika Worathaiwit and Harit Mahaton, are now charged with insulting the monarchy based on their conversation in the private chat, security officers said.
While it appears to be the first time Facebook has walled off content in Thailand and left a note explaining why, it has restricted content in the past, according to its own self-reporting on government requests for account information and content restrictions.
From July 2014 to December 2014, Facebook reported 30 content items restricted in Thailand.
"We restricted access in Thailand to content reported by either the Ministry of Foreign Affairs or Thai CERT (Computer Security Incident Response Team) under local law prohibiting criticism or defamation of the King and Royal Family," its report reads.
Its report makes no mention of content restrictions during 2015, only indicating that the California-based company declined five requests for information about five users during the year.
Related stories:
Prayuth Defends Abducting 'Facebook Eight' 
Facebook Opens 'Secret' Bangkok Office
Record Sentences Today For Facebook Lese Majeste Offenses