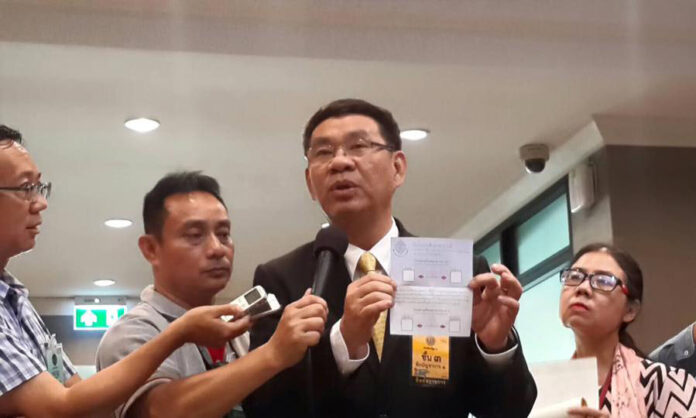 BANGKOK — After waiting months for official accreditation, the head of a nonpartisan domestic election monitoring group said he was dismayed to learn Monday that no Thai organizations would be granted status for the upcoming charter referendum.
Pongsak Chan-on of We Watch said allowing foreign organizations but barring Thai groups such as his made no sense and amounted to discrimination.
"It's perplexing. Last week they told us we could still apply. I am very disappointed and don't understand the rationale. We Watch is not partisan. And if you give the accreditation to international observers, why not recognize Thai observers too? This is a discriminatory practice."
Read: No Thais Can Monitor Vote Because Law Didn't Say They Can, Commission Reasons
Election Commissioner Somchai Srisutthiyakorn said it might have been a misunderstanding that led We Watch to be believe it might win approval. He said commission officials might have seen its English-language name and mistaken it for an international organization.
But the fact remains no domestic organizations will be allowed to officially monitor the vote for fraud or irregularity because, as he said earlier this month, a law passed to ban campaigning before the referendum did not explicitly authorize Thai observers.
"They can only observe like any citizen. They won't be accredited, and they must not obstruct officials [from carrying out its duties]," Somchai said of We Watch. "There will be no issuing of [observer cards] to Thai group and perhaps our staff though We Watch was a foreign group."
Only one international observer group, the Asian Network for Free Elections, or ANFREL, has applied to observe the referendum set for Aug. 7.
We Watch's Pongsak is also a member of ANFREL. But if the Bangkok-based international NGO wins approval, he won't be allowed to join its monitoring mission because he is a Thai national.
Commissioner Somchai noted that only short-term observers, those flying in for three to four days prior to the plebiscite would be accredited, while those seeking to set up 15 days prior would not.
"That's too long a period of time," said Somchai, adding that the commission is ready to shoulder the costs of lodging, domestic travel, interpreters and other costs. He added that ANFREL was expected to field about 20 observers.
Pongsak, a veteran observer with 20 years experience, said We Watch would go ahead and observe the referendum without accreditation by training and dispatching about 300 observers to various parts of the kingdom.
But he doubts its ability to be effective without official sanction.
Such difficulties include officials and voters refusing to cooperate with their inquiries, he said, or harassment by military security forces.
"There would be legitimacy in questioning officials if we had accreditation cards, and if soldiers pressured us, there would be legitimacy [for us]," Pongsak said.
Related stories:
Soldiers Arrest Activists For Handing Out Referendum Leaflets (Video)
Redshirts Take Grievance Over Voting Watchdog Campaign to UN
Singing, Dancing Activists Chased Off by Pro-Junta Counter-Protesters (Video)
UN Rights Chief Urges Thailand to Allow Debate of Draft Charter
Constitutional Court Agrees to Review Repressive Referendum Law