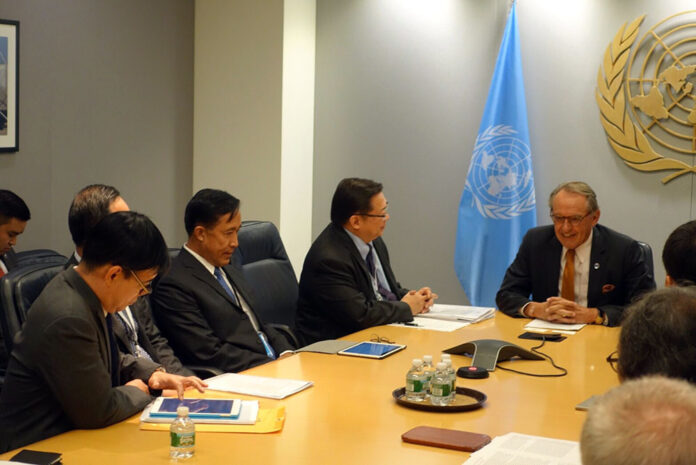 BANGKOK — The Office of U.N. Secretary-General Ban Ki-moon took the highly unusual step of refuting a Thai delegation's account of a meeting held late last month on the referendum and freedom of expression.
In the statement released Tuesday, the U.N. said Thai officials mischaracterized to Thai media the meeting held 29 June between Deputy Secretary-General Jan Eliasson and Virasakdi Futrakul, Foreign Affairs vice minister.
"The statements made to the Thai press by some members of the delegation and reflected in reporting in the press that the [deputy secretary-general] 'is not concerned' about the referendum did not accurately reflect the conversation that took place, where he clearly raised concerns, including about freedom of expression and the need for an open dialogue ahead of the referendum," wrote Michael Bak, adviser to the UN resident coordinator.
The statement sought to set the record straight after Thai representative to the U.N. and former permanent secretary Norachit Sinhaseni was reported in several media outlets saying the global body was "not concerned" about the situation in Thailand in the run-up to a public referendum on the next constitution.
"The DSG said he fully understands the situation in Thailand and is not concerned with the Referendum Act," Norachit was quoted by INN News on Monday.
On the same day, he was also quoted by Parliament Radio Station: "Mr. Norachit also added that the United Nations did not oppose the Referendum Act…"
Reached for contact Wednesday morning, Norachit said he had not read the statement yet and therefore had no comment.
Passed in late April, the Referendum Act contained a number of controversial provisions, but none more so than the criminalization of any campaigning for or against the charter amid a wider suppression of speech.
The U.N. statement described the June meeting differently.
"The Deputy Secretary-General expressed concerns about the recent reports of restrictions on the freedoms of expression and assembly ahead of the referendum on the draft constitution to be held on Aug. 7. Stressing the importance of the partnership between Thailand and the United Nations and welcoming the human rights and rule of law are important elements for sustainable development and emphasized the need for open and inclusive dialogues to promote democracy and support national reconciliation," it said of the meeting, which was also attended by Norachit.
Military government officials have repeatedly returned from overseas visits claiming to have successfully made their case in the international community, despite conflicting messages from their hosts.
In October 2014 it went so far as to claim images of a sizable protest against Gen. Prayuth Chan-ocha on his first trip overseas to an Asian-European summit in Milan, Italy, were faked.