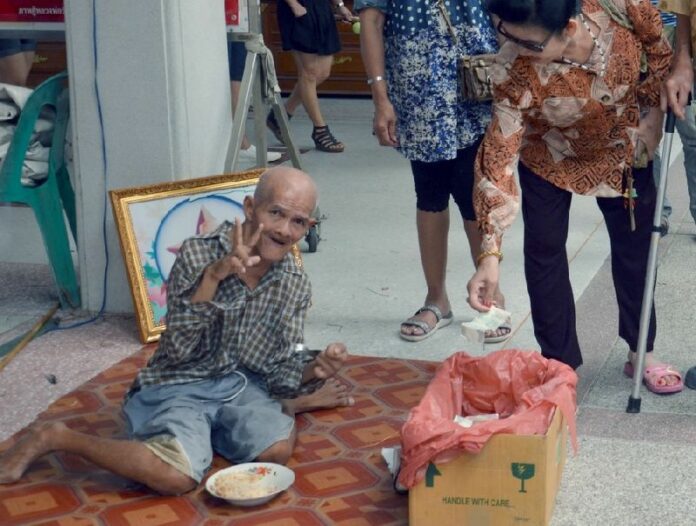 BANGKOK — An overhaul of the country's archaic law on panhandlers that goes into effect Thursday is being welcomed by lawmakers and activists for one or two reasons.
Instead of the flat criminalization of begging that has been the norm, the Beggar Control Act of 2016 verbs free shelter and job training will be provided to street beggars while those who force others, especially small children, into begging will be punished.
Thai Junta to Issue New Law Banning Begging
A crusader against child begging said he welcomed such punishment as it would help fight child trafficking.
"In the older law, it's wrong, but there's no real punishment," said Witanapat Rutanavaleepong, who heads the Mirror Foundation's campaign against child begging.
A significant number of Bangkok's child beggars are children trafficked from other nations, sometimes sold by their parents to brokers and shipped off to Bangkok.
Witanapat also praised the law's emphases on job training and rehabilitation rather than prosecuting people proven to be living in abject poverty. However, the social worker criticized some parts of the job program.
"They chose the professions for the beggars. They can only cut hair, cook and fix phones," Witanapat said. "They don't look at what the beggars really want."
Puttipat Lertchaowasit, chief of the Ministry of Social Development and Human Security's welfare department, said the details have yet to be hashed out until different ministries can meet Aug. 10 to discuss which agency will handle which roles in the new law.
"We will coordinate with the Ministry of Labor and other ministries," said Puttipat, who's in charge of the rehab effort. "For example, if they want to go into farming, the Ministry of Agriculture will have houses and plots of lands for them … If they want to work in factories, the Ministry of Commerce has a garbage recycling plant for them."
Another prominent feature of the law is the separation of buskers from beggars. Under the new law, street performers must register with local authorities, and officials will come up with guidelines on the qualifications at the Aug. 10 meeting, according to Puttipat.
In the meantime, starting tomorrow, buskers will be granted a grace period, he said. Under current law, buskers make their living as the law is widely unenforced and left up to local police and officials who may or may not arrest them for begging.
So, what should people do when they see beggars Thursday onward?
Dial the ministry's hotline at 1300, Puttipat said.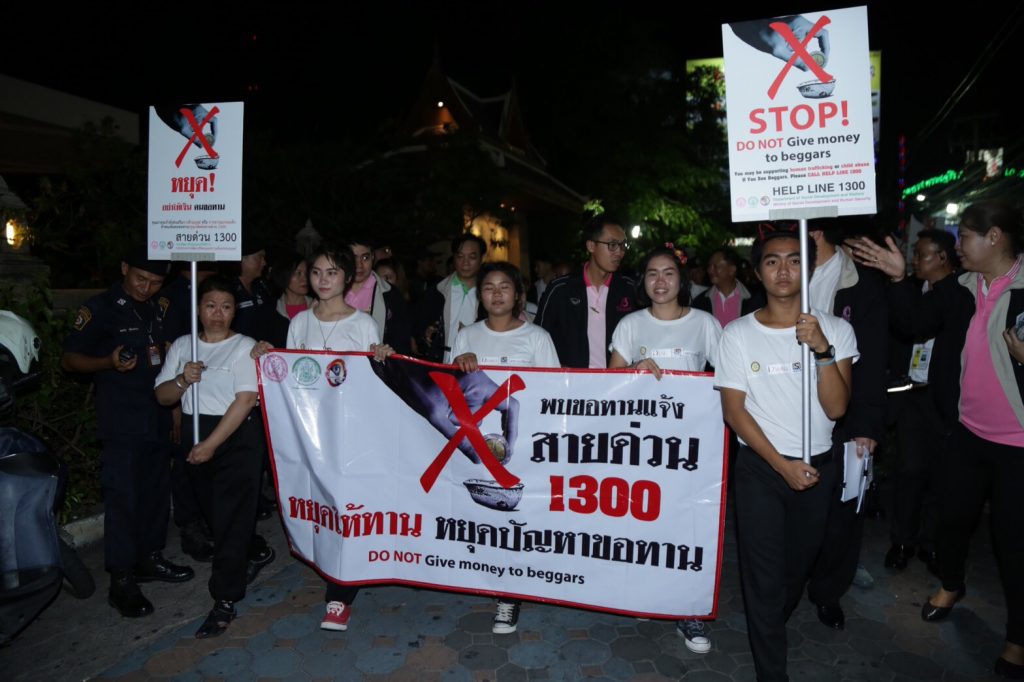 A team will be dispatched to take the beggars to a facility in Thonburi, where officials will assess whether they have any disease or disability, whether they are too old to work and whether they suffer any mental illness.
Those who fall into those categories will be sent to state hospitals, shelter homes for the elderly and mental institutions, respectively, Puttipat said, while those proven to be genuinely poor will qualify for the shelter facilities and job training programs.
Beggars who are not Thai citizens will be deported.
He said a part of the money for this program comes from public donations through a fund established by the Ministry of Social Development and Human Security.
"The important point that I'd like to tell the public is that they should know how to help beggars in a right way," Puttipat said. "If they want to donate money to beggars, don't give them coins. Give to the fund to rehabilitate them."
Witanapat, the social worker with Mirror Foundation, said the program shouldn't only allocate money for its job training but also for getting participants started afterward.
"They don't have a marketing plan. Once their training is completed, where's the fund for starting their business? They leave the shelter homes, but they don't have any money, and not having money is the cause of begging in the first place" Witanapat said.
He suggested a microlending fund be established, as many of those in need lack access to traditional loans.
Puttipat, the head of the welfare department, said all these concerns will be addressed at upcoming meetings.
"You may ask why we haven't set up these meetings yet. The reason is, the law will only come in force tomorrow. We couldn't do it earlier," he said.
Related stories:
Alleged Trafficker of Rose-Selling Children on Khaosan Road Arrested