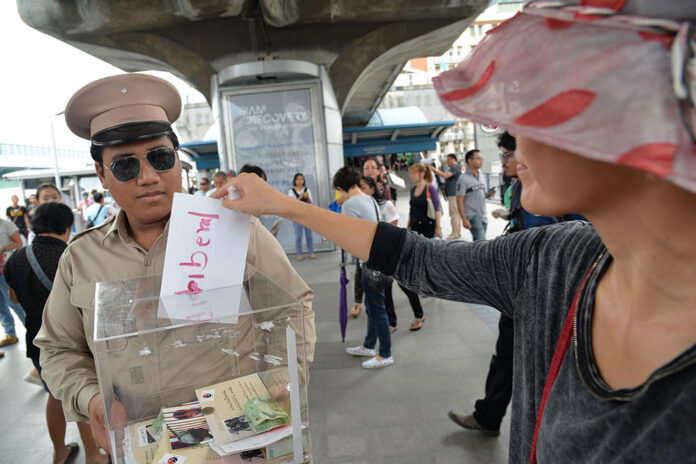 BANGKOK — Human Rights Watch on Tuesday called for the military government to release an activist currently on a hunger strike after he was arrested for campaigning against the junta-sponsored charter.
The New York-based group's statement came as Jatupat Boonpattararaksa, now on the 10th day of a hunger strike to protest his imprisonment, is said to be in poor health after reportedly passing out on Sunday.
"The junta should immediately free Jatupat and other activists who peacefully protested the proposed constitution. In the meantime, he should be under the supervision of doctors in case his health condition worsens, and diplomats should be allowed to visit him," the group's regional director, Brad Adams, wrote in the statement released from New York.
Read: Fourth Day of Hunger Strike For Jailed Referendum Activist
The 25-year-old activist, better known as "Phai Dao Din," is being held at the Phu Khiao Prison in Chaiyaphum province while he awaits trial on a count of violating the Referendum Act by openly campaigning against the charter passed by a majority on Aug. 7.
Jatupat refused to seek release on bail because he rejected the legitimacy of the charge. If convicted, he faces up to 10 years behind bars.
Adams added that the United Nations and friends of Thailand around the world should press junta leader Gen. Prayuth Chan-ocha to immediately end arbitrary arrests of critics and dissidents, as well as drop criminal cases against those who peacefully expressed their minds.
"The junta should match its rhetoric promises with real actions to restore respect for rights and democratic rule," Adams wrote.
Activist friends of Jatupat said his decision to go on a hunger strike was his own.
A spokeswoman for the New Democracy Movement said the group doesn't have a position on whether to encourage Jatupat to end his fast and would travel by bus to visit him Wednesday.
"We didn't try to stop him from being on hunger strike. We respect his decision," Chanoknan Ruamsap said.