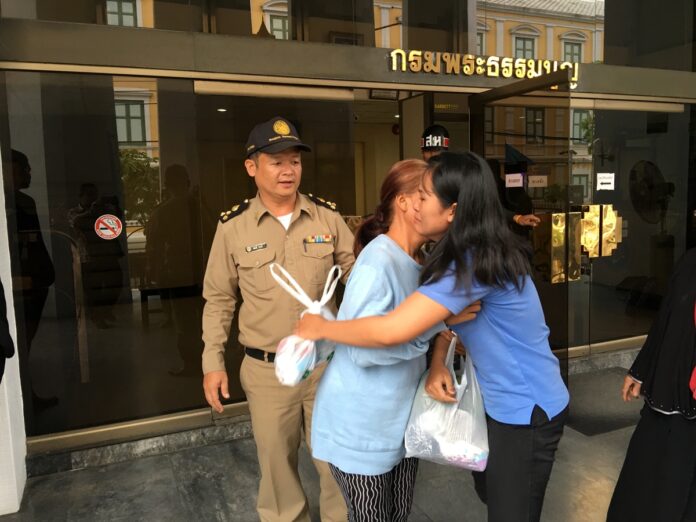 BANGKOK — All of the 15 suspects arrested for allegedly plotting anti-government violence were denied bail release by the military court Friday.
The defendants, who are mostly Redshirt supporters in their 60s, stand accused of belonging to a clandestine network and conspiring in armed struggle against the state, an allegation denied by leaders of the Redshirt movement.
Army Backtracks on Claims of Elderly Terror Suspects' Link to Bomb Attacks
Thanadej Puangpoon, the attorney representing the accused, said the military tribunal ordered the 15 sent to prison even though he said they are in poor health and could not possibly interfere with any evidence.
"I explained that the suspects don't even know who the witnesses are, so they had no way of interfering with the witnesses," Thanadej Puangpoon, the attorney representing the accused, told reporters. "And most of the suspects are mostly in their senior age, so [being in prison] would affect their health."
The 15 are charged with insurrection, belonging to a secret society with an intent to commit crimes, and violating the junta's ban on political gathering.
They were taken to Bangkok Remand Prison and Central Women's Correctional Facility. Thanadej said he hoped to apply for bail on their behalf again on Monday.
Police said they're also looking for two other suspects in connection with the alleged clandestine ring.
Earlier today Jatupon Prompan, leader of the Redshirts' official organization, disputed the allegation, calling it a "nonsensical farce."
Meanwhile, Sunai Phasuk, a Human Rights Watch coordinator for Thailand, raised concerns that the suspects may not receive a fair trial, because the 15 were previously held in military detention without access to lawyers.
"It's not transparent," Sunai said, "Their allegation can't be independently proven."
He also criticized the court's tendency to deliberate on bail request based on the nature of the crimes the suspects are charged with, instead of separately consider a bail for each of the defendants.