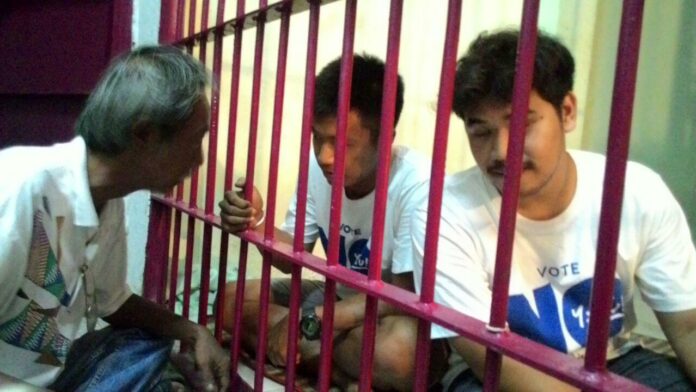 BANGKOK — A hunger striking activist who was ordered free by a court today was instead taken before a military tribunal on a 2015 charge stemming from holding an anti-coup banner.
A leader of the northeastern activist group Dao Din, Jatupat 'Phai' Boonpattararaksa was originally expected to be freed from Phu Khiao Prison in Chaiyaphum province late Friday afternoon after the court approved to his release on the condition he cannot leave the country.
Jatupat had been on a hunger strike since his arrest two weeks ago for campaigning against the charter.
At 5pm Friday, police arrived at the prison to take him to Khon Kaen military court for another charge from last year. It stemmed from a May 2015 rally at Khon Kaen's Democracy Monument at which seven Dao Din members displayed a banner which said  "oppose the coup."
Before departing to Khon Kean, Jatupat's mother, Prim Boonpattararaksa, asked to meet her son to let him sign his university enrollment forms, but police refused.
The mother along with Jatupat's sister then tried blocking the police vehicle, pleading with the officers in tears. After an hour, police let Prim meet her son to sign the document.
Read: Fourth Day of Hunger Strike For Jailed Referendum Activist
Jatupat was arrested Aug. 6 at a market in the northeastern province Chaiyaphum where he was distributing leaflets against the draft charter. He was charged for violating the Referendum Act.
The 25-year-old activist began his hunger strike immediately after he was imprisoned and refused to post bail in protest of what he said was the illegitimacy of the charges.
Fellow activist Wasin Prommanee, who was arrested at the same time, was freed on a bond.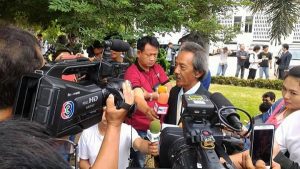 A number of rights groups, such as Human Rights Watch, had urged the government to free Jatupat, especially after he was reported to be in poor health condition following the strike.
His father, Wiboon Boonpattararaksa, a lawyer who is representing his son, staked his license and 30,000 baht to cover the 150,000 baht bond.
Wiboon said he briefly talked to his son in the court. Phai said he would end his hunger strike after he's released.
Jatupat and Wasin are to testify in court on Monday.