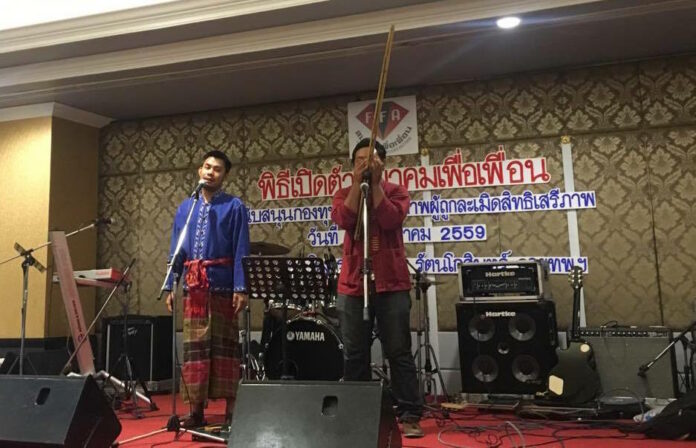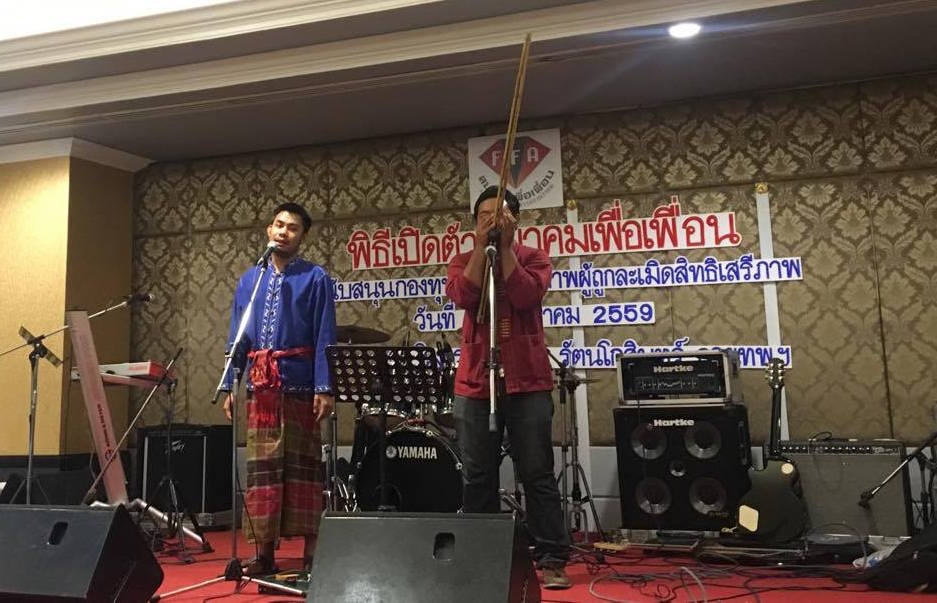 BANGKOK — When Patiwat 'Bank' Saraiyam took the stage Saturday night at the Royal Rattanakosin Hotel to play mor lam for the first time in public following his surprise release days earlier from prison, it proved an auspicious time and place to launch a group dedicated to supporting prisoners of conscience.
After all, it had been 112 days since the For Friends Association got to work, and the hotel has provided sanctuary to previous generations of pro-democracy protesters, even serving as a triage center for wounded when the 1992 popular uprising became "Black May."
Read: Ex-Convict Crowdfunds Help for Lese Majeste Prisoners
"The association is very important for those inside, as they help comfort us and make sure that we're not left behind," said the 27-year-old singer who was convicted of defaming the monarchy with his performance in a 2013 student play. "That's why I want to perform today, as gratitude to all my supporters who gave me hope and made life inside not too miserable."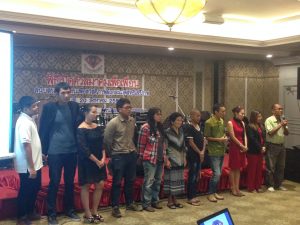 Patiwat was among former convicts and their loved ones to give heartfelt speeches at the official launch for the association, a group which offers a transparent and accountable system to lend aid to prisoners whose crimes make them subject to the harshest conditions, the marginalized of the marginalized.
It was also a means to raise much-needed funds.
"The 200 tickets almost sold out, which cost 1,100 baht each. We'll get approximately 100,000 baht after deducting the expenses, which we'll use as a starter fund to help provide better welfare for 30 jailed political activists and students," said Piyarat 'Toto' Chongthep, association president.
Piyarat saw the need for the organization after Patiwat and other friends were convicted of crimes such as lese majeste – Section 112 of the Penal Code. Seeing such crimes as politically motivated, and the hardships faced by those even accused of them, the idea was to provide humanitarian assistance for them and others found guilty of thought crimes, as well as their families.
Along with others such as former political prisoner Ekachai Hongkangwan, he co-founded the association, which obtained legal status March 30. Their first efforts came a few weeks later after the arrest of eight dissident Facebookers, and it claims to have assisted 35 prisoners in the past four months.
Already involving matters of social taboo, suspects and convicts in such cases have seen increased restrictions, such as contact only with a short list of visitors approved by authorities.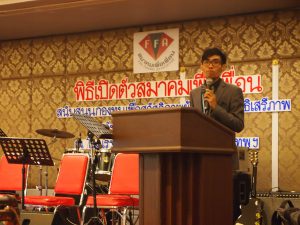 "While the numbers of prisoners for thought crimes have increased, we have limited staff to help out, and each prison has different rules on visitation," Piyarat said. "Also, the interference from authorities makes things even more unpredictable, as the court could close early in the afternoon or stay late to give a verdict at midnight," he said.
Despite the optimism of the association's launch party, its fate hangs by a thread. Piyarat himself risks being jailed up to 10 years for famously tearing his ballot in protest on the day of the Aug. 7 referendum.
He will appear Tuesday in the Phra Khanong Circuit Court to answer a charge of violating the Referendum Act, which essentially criminalized dissent to the proposed charter.
"We have cautiously planned our work structure and management, so I think it won't have much effect, with or without me," Piyarat said, saying he's prepared for whatever legal outcome.
The group has pledged transparent disclosure and effective use of contributions.
As a registered charity, it receives government scrutiny and runs entirely on donated funds and membership dues. Apart from 30,000 baht in monthly office overhead, funds are spent to facilitate visits and assist prisoners of conscience and their family members by helping to pay for things like toiletry items and transportation. Detailed expenditures are posted on their Facebook page and website.
Piyarat may be an activist, but he said the group's aims are apolitical.
"For Friends Association has no political aim or desire to put the government down. We provide humanitarian assistance equally, to everybody," he said. "We take no sides. If one day any authority is in the same struggle, and asks for help, we're ready to give them assistance."

Related stories:
Ex-Convict Crowdfunds Help for Lese Majeste Prisoners
Freed Lese Majeste Offender Loses Faith in UDD, Pins Hope on 'Ordinary Folks'