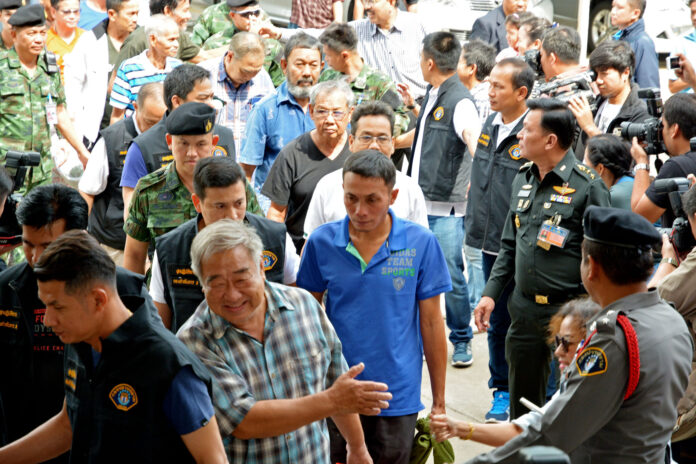 BANGKOK — A Redshirt group accused of plotting armed insurrection against the military junta has no capability of doing such a thing, two people familiar with the movement said.
Fifteen people who allegedly belong to the so-called Revolution for Democracy Party were freed on bail Monday afternoon to await their trial by military tribunal. Two others were said to be on the run.
The authorities say they have evidence of the group's plot to overthrow the government, and link its members to anti-monarchy wing of the Redshirt movement.
Army Backtracks on Claims of Elderly Terror Suspects' Link to Bomb Attacks
But activist and former lese majeste convict Ekachai Hongkangwan questioned the claim, saying that the group has no solid plan or preparations for such an ambitious task.
"They can't do that kind of thing," said Ekachai, who spent nearly three years behind bars and had worked with Red Siam, a group known for its radical stance on the Royal Family. "They don't have the capability. They just banded as a group, that's all."
He said by telephone that he first heard about the group in 2012, when one of its members solicited other Redshirt factions and activists for financial support but, in the end, received none.
Somsak Jeamteerasakul, a historian in exile whose interests including studying Redshirt underground groups, said he's not specifically heard of the Revolution for Democracy Party before. But he added that such groups are commonplace, and they are mostly just talk without real action.
"There were talks on Line [chat application] used by the Reds that there were some groups being formed," Somsak said via online messages. "But in my evaluation, the furthest these groups could go after the coup is to communicate with each other on Line, and talk to each other about revolution."
These groups were formed out of frustration that the official leadership of the Redshirt movement was not doing enough to oppose the military regime, but they lack both resources and systematic thinking, Somsak said.
Age Doesn't Matter
Most of the 15 suspects implicated in the plot are in their 60s or 70s. They are facing charges of violating the junta's ban on political assembly and being part of a criminal conspiracy.
On Friday afternoon the Bangkok military court denied them bail, on the grounds that the court office was closing down when the suspects were brought before the judges.
Fourteen of the suspects were being held at Bangkok Remand Prison while the sole woman in the group is jailed at the Central Women's Correctional Institution.
Deputy junta chairman Prawit Wongsuwan said the suspects' senior age would not play any factor in the ongoing investigation into their alleged plot.
"No matter how young or old they are, if they break the law and violate the constitution, we must prosecute them," Gen. Prawit told reporters Monday. "Let me stress that security officers are not arresting scapegoats here. We have been monitoring them for a long time."