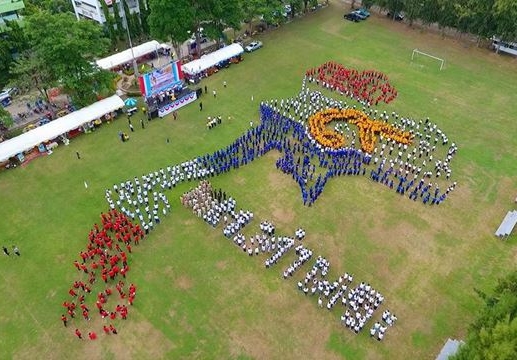 KHON KAEN — Hundreds of people turned out for a mass performance in honor of His Majesty the King in Khon Kaen province on Friday, which marked the ninth day of the year's ninth month, a date considered auspicious by many Thais.
Meant as a gesture of loyalty to King Bhumibol, the ninth monarch of his line whose health condition has worsened recently, hundreds gathered on a football field in the province's Tha Pra district to arrange in a likeness of Thailand's map with a Thai numeral nine in the middle.
King Reportedly Suffering From 'Severe Infection'
Nine is seen as lucky in Thai culture.
A statement released by the Royal Household Bureau on Wednesday said King Bhumibol was undergoing continuous dialysis, a treatment for patients suffering kidney failure.
The king was also suffering a blood infection, though his condition is gradually improving, the statement said.
His Majesty the King has spent much of the last seven years at Siriraj Hospital. His fragile health is a cause of concern for many Thais, who see him as the spiritual leader of the nation.
The Stock Exchange of Thailand plunged sharply since the palace released word of his condition on Sept. 2 and posted losses Friday for the third day straight.
Related stories: