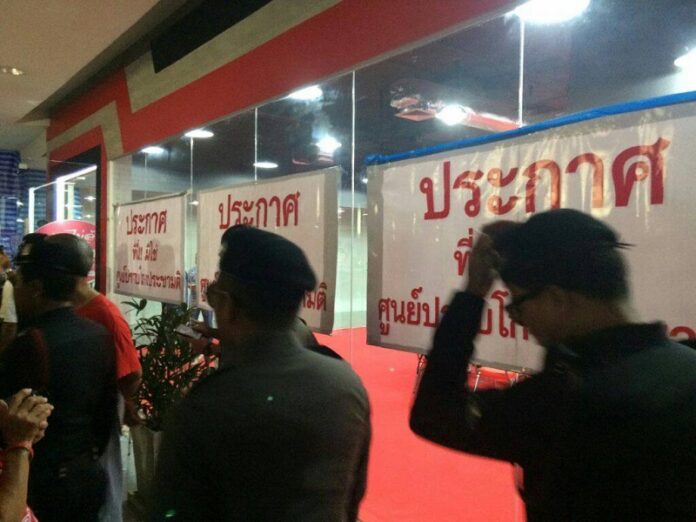 BANGKOK — Critics and opponents of the military regime agree it will be more difficult to make any moves during the 11 months of mourning to come but differ on how far the junta will go to keep its opponents in line.
With social conditions ripe for suppressing dissent, speculation on what tools it would employ ranges from soft power and social pressure to a return to arrests and criminal charges for those who openly oppose its rule.
Abhinya Sawatvarakorn, a postgraduate student activist and a member of the League of Liberal Thammasat for Democracy, predicts the former.
"I think the regime will from now on resort to the use of soft power instead of naked power. They can coerce people to do things without having to force people," said Abhinya, citing the fact she dare not wear a red dress outside during the mourning period for King Bhumibol."I am being forced without being directly forced to wear black."
Once targeted by ultra-royalists and the media for allegedly defaming the monarchy as a high school student in 2009, Abhinya said freedoms have diminished since witch-hunting began after the king's death.
"Those who support the junta appear to have more legitimacy in attacking those who disagree with them," she said. But she doesn't think the junta will resort to tactics such as sending police to surround and arrest protesters any longer.
Yaowalak Anuphan, head of Thai Lawyers for Human Rights, said that since the death of the king, at least 20 people have been charged with violating the lese majeste law. What's more, one of her colleagues, Sirikan Charoensiri, has been charged with sedition because she kept the mobile phones of her student-activist clients inside her car.
"In the 11 months ahead, the NCPO will continue to use the laws [to handle dissent]," Yaowalak said, referring the formal name of the junta, the National Council for Peace and Order.
What's more, she believes detaining people without charge for up to seven days is not going to stop, as seen in last month's detention in Bangkok of university students from the Deep South suspected of involvement in a bombing plot.
Yaowalak in fact no longer expects the promised general elections to be held next year due to the year-long mourning period, despite the military government's insistence it will keep to its roadmap for ceding power.
Thammasat University anthropologist Anusorn Unno said the junta will likely try to create a "new normal" wherein the military is embedded into various administrative and political structures.
"They will probably reduce the harassment they previously committed," said Anusorn, coordinator of Thai Academic Network for Civil Rights.
He believes the junta will want things as calm as possible during the prolonged mourning period, pointing out that while the regime arrests more lese majeste suspects, it doesn't support vigilante witch hunting.
"They will try to monopolize power while striving to create a climate where things look normal, like by creating a 'new normal,'" Anusorn said.
To achieve that, he believes the use of "attitude adjustment" and detention without charge is likely to continue.
Both Anusorn and Abhinya agree staging any public displays of dissent will be difficult.
"There will be difficulties in engaging in any political moves because even the liberty to wear whatever-color dress is gone," Abhinya said. "It will be tougher to push for issues such as human rights and democracy due to the situation."
Anusorn said his activism may best be put to use on the issues.
"We will probably have to avoid engaging in political moves that are seen as provocative. This will make things difficult for groups such as the New Democracy Movement or Dao Din," Anusorn said, referencing the Bangkok- and Isaan-based student activist groups, respectively.  
His academic network will focus on the plight of the disenfranchised, such as farmers suffering from low rice prices.
Anusorn said one important factor affecting the political landscape is when His Royal Highness Crown Prince Maha Vajiralongkorn ascends to take the throne. Anusorn said this will lead to a realignment in the balance of powers.
Less sure of the junta's steadiness is Chiang Mai University political scientist Chamnan Chanruang.
"I think there will be less of a crackdown, while attitude adjustments have proven ineffective. The regime is now no different than a populist government as it is trying to shore up the price of rice," he said.
Chamnan believes the junta is unstable, and its focus will be holding general elections as soon as possible to see the constitution approved in August, which enshrined power for the military, become the law of the land.
"After elections, they could still hold power through proxies. On the other hand, prolonging their stay in power would not be beneficial because people may get bored," Chamnan said. "And the economic situation isn't in their favor."
In the end, he said that whether the junta was elected or unelected, it can't survive without the support of the masses, who can legitimize them or not.