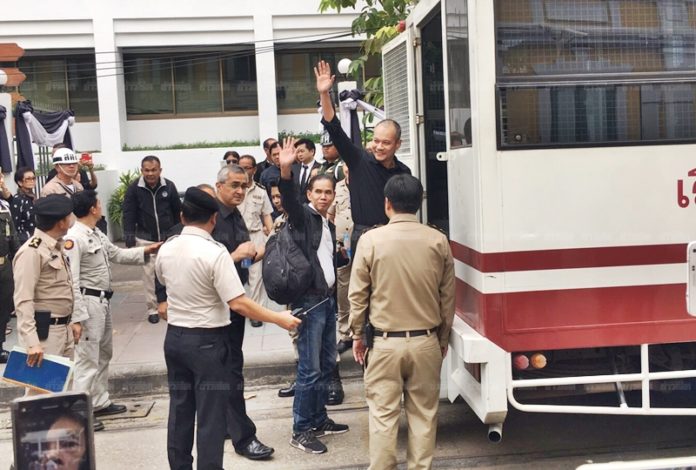 BANGKOK — Prosecutors on Friday indicted 19 senior members of the anti-coup Redshirt movement for violating a ban on political activities when they sought to open an office to monitor last August's referendum on a new constitution.
The draft charter, criticized as undemocratic but promoted by the military regime that seized power from an elected government in May 2014, was passed.
The Redshirt movement, also known as the United Front for Democracy Against Dictatorship, is closely associated with the Pheu Thai party that led the ousted civilian government. It led militant street demonstrations in 2010 in Bangkok that were put down with deadly force by the army.
The indictments in a military court appear to mark a resumption of government pressure on its opponents after a period of relative political calm following the Oct. 13 death of King Bhumibol Adulyadej and his succession by his son, King Maha Vajiralongkorn Bodindradebayavarangkun, at the beginning of this month.
The Redshirt leaders were charged with violating a ban on holding political assemblies of more than five people that the military imposed shortly after taking power. If found guilty they could be jailed for one year and fined up to 20,000 baht ($560).
Winyat Chatmontree, a lawyer representing the Redshirts, said the June action for which they were charged was a news conference, not a political meeting, and they would plead not guilty. They were granted release on bail of 20,000 baht ($560) each, he said.
Also Friday, Prime Minister Prayuth Chan-ocha reshuffled 12 positions in his Cabinet. Two military men who resigned ministerial posts last week after being appointed to the Privy Council of advisers to the king were replaced by civilians, and Pichet Durongkaveroj, who had been minister of science and technology, became the first minister of the newly created Ministry of Digital Economy and Society, which replaced the Ministry of Information and Communication Technology.