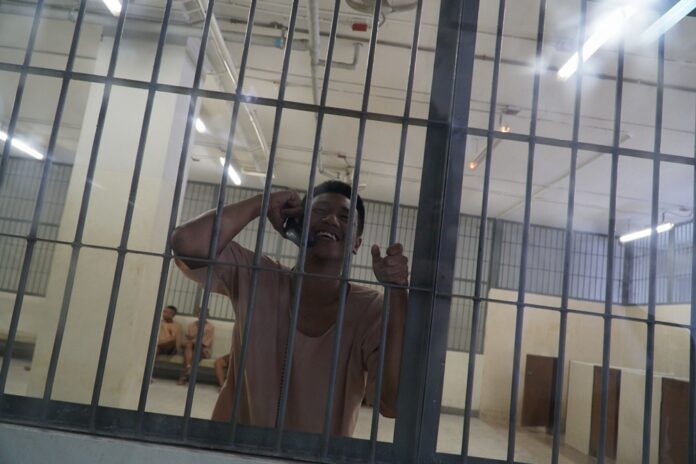 KHON KAEN — After trying and failing to secure his freedom for a fifth time, jailed activist Jatupat "Pai" Boonpattararaksa said Friday he will no longer ask the court to free him on bail.
Jatupat, who's been held in jail since December on a charge of defaming the monarchy by sharing a news article about King Rama X, communicated via his father that he had lost his faith in the court proceedings. Jatupat's fifth bail request was turned down today in a secret hearing.
"We will no longer appeal against his ongoing custody. We will not submit any more bail request. Whatever they want to do, they're free to do it," said Jatupat's father, Viboon Boonpattararaksa, who also serves as his son's defense lawyer. "This is what he arranged. He believes that it's no use."
Read: Court Denies Bail to Activist Suspect in Lese Majeste Case
A community rights activist who became a high-profile democracy campaigner after the wake of the May 2014 military coup, Jatupat was arrested in early December and charged with royal defamation for sharing a BBC Thai biography of His Majesty the King. Police said the article contained offensive information.
His bail was later revoked on the grounds he mocked the court and instigated unrest. Under the law, suspects can be remanded to custody for seven consecutive sessions lasting a total 84 days.
Viboon said Jatupat was incensed when he learned the judges decided to deliberate on his bail request in a secret proceeding reporters and rights observers were not allowed to attend. After his protest was overruled by the court, Jatupat ordered all his lawyers, except Viboon, to leave the courtroom in symbolic protest.
"Pai believed that the procedure was illegitimate, and he didn't want the lawyers to take part in it," Viboon said.
He also said Jatupat, a seventh-year student at Khon Kaen University, missed his exams Tuesday because the court did not free him temporarily to take the test.
Although the court did allow the university and the prison to arrange for Jatupat to take his exam in jail, the officials didn't do so, according to Viboon, who added that Jatupat will be unable to graduate this year and risks invalidating seven years invested in his law degree.
Related stories: 
Authorities Visit BBC Thai Offices, Block Article Online