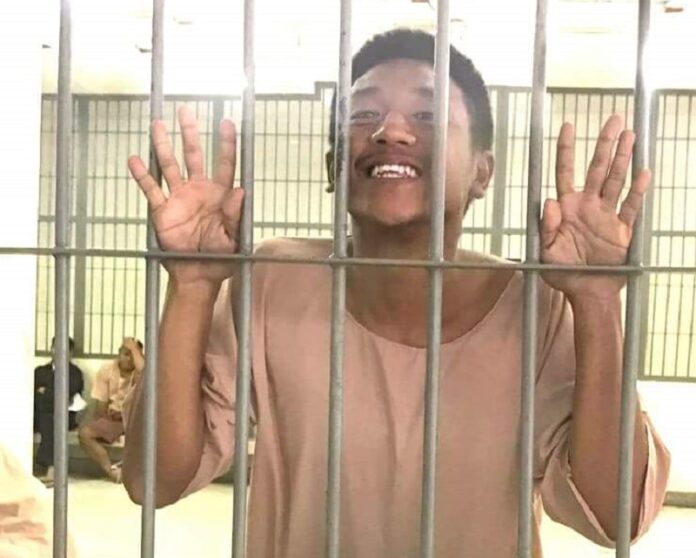 BANGKOK — Though more than 2,800 people shared a biography of King Rama X on Facebook in early December, only one was arrested and charged with lese majeste.
Now, days after Jatupat "Pai" Boonpattararaksa said he has given up on justice after two months in jail, his supporters and friends said he's been singled out to scare others under a draconian but convenient law.
"Pai's Facebook and many activists have been under surveillance by the authorities," said Pakorn Areekul, a member of the New Democracy Movement, whose protests Jatupat's Dao Din group has coordinate with during the past two years. "They even visit and comment on my Facebook sometimes. So whenever I post something that's risky, they could prosecute me. It can be said that they have been looking for such an opportunity."
Asked if he shared the same BBC Thai biography on Facebook, Pakorn laughed and said no. He said some people had advised him not to do so, and he chose not to after learning of Jatupat's arrest.
The authorities arrested Jatupat on Dec. 3, after the biography was published on the occasion of His Majesty King Rama X ascending to the throne. The authorities said it contained defamatory information and blocked internet users in Thailand from accessing it.
No action was taken against anyone else for sharing the article, including the London-based BBC.
On Monday, New York-based Human Rights Watch called for the authorities to immediately release Jatupat.
"The charges against Jatupat show the Thai junta's misuse of lese majeste laws to persecute dissenters against military rule. Thailand's military rulers have aggressively clamped down on any speech they find objectionable, including what they arbitrarily deem is critical of the monarchy," said Brad Adams, the group's Asia director.
It added that the law should be amended to bar private actions, "including by the military, which have been routinely used for political purposes."
Jatupat, 25, a seventh-year Khon Kaen University law student and pro-democracy activist, was denied bail for a fifth time Friday. He had earlier been briefly released on bail, but it was revoked after he complained that the 400,000 baht bond was excessive. The court was also unhappy with a photograph shared online of him "dabbing," or striking a pose popularized online, in front of the court after his release. His bail was revoked.
Jatupat also missed an examination last week because when the court rejected his request to be temporarily released to sit for it.
Anon Nampha, a member of the legal team representing Jatupat, said the 25-year-old student was charged and detained to discourage other activists. He said this would only amplify calls for Jatupat's release.
What outraged him and his supporters happened Friday when judges held a bail hearing in secret, barring reporters and supporters from the courtroom even though the actual trial had not begun, Anon said. This prompted Jatupat to ask his lawyers to leave the courtroom in protest, saying he didn't want to legitimize the process.
Jatupat's trips to court made headlines earlier this month when it was revealed that the activist was allegedly cavity-searched every time he returned to jail from a hearing
Nuttaa Mahattana, the coordinator of an ongoing campaign to win Jatupat's release, said the activist was targeted because he's on a junta watchlist for Khon Kaen province.
"We're always being monitored. If we make a misstep, it's up to them when they will take action against us," Nuttaa said.
After a month of weekly actions, Nuttaa said the Free Jatupat campaign has become "very tiring." But a university anthropologist and coordinator of the Thai Academic Network for Civil Rights, Anusorn Unno, vowed to step up a separate campaign by both Thai and foreign academics for Jatupat's release. Anusorn said the pressure could be stepped up at a recent press conference.
He warned the military junta, saying the longer it keeps Jatupat behind bars, the more his incarceration will be seen as unjustly aimed at one man.
"We will see various groups come together and linked," Anusorn said. "It's up to those in power if that's what they want to see."
The next hearing on Jatupat's pre-trial detention is set for Feb. 1.