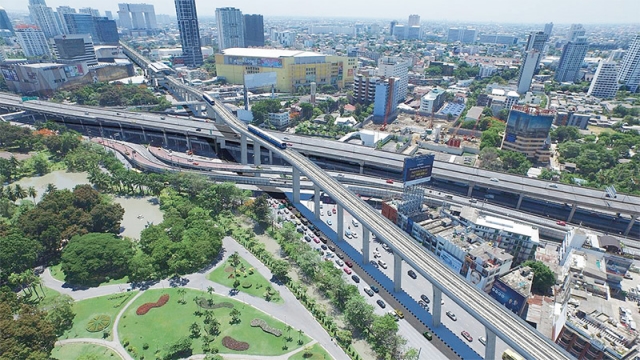 BANGKOK — Construction of a bridge between BTS Mo Chit and a new elevated train line will begin in February, a director of the project said Monday.
To avoid closing down traffic at one of the busiest crossroads in the capital, the Green Line extension's tracks will soar over the tangle of crisscrossing bridges and expressways at Lat Phrao intersection, according to Surachet Laophulsuk of the Mass Rapid Transit Authority, or MRTA, which is building the extension.
"It will slightly affect the traffic, but we won't shut down the entire intersection," Surachet said. "We might close down just one lane."
Dismissing reports on social media that Lat Phrao intersection will be closed during construction, Surachet said the MRTA would take lessons learned late last year from dismantling the Ratchayothin intersection overpass without interfering with the traffic.
"It's like what we did at Ratchayothin. Let me stress my point: We won't close down the intersection," Surachet said.
Starting just north of the three-way intersection, the elevated Green Line will connect Bangkok's downtown with its northern suburbs. The MRTA hopes to connect its southern terminus at what will be the Lat Phrao Station to BTS Mo Chit, which is just south of the intersection, by August 2018.
The Green Line itself will be finished by February 2019, but when it begins operating depends on negotiations with Bangkok City Hall, Surachet said.
The flyover across Lat Phrao intersection will run 26 meters above the ground, a height of about eight floors, making it one of the tallest rail spans ever built in Thailand, he added.
Related stories:
Phahonyothin Traffic Nightmare to Get Worse for Three Years