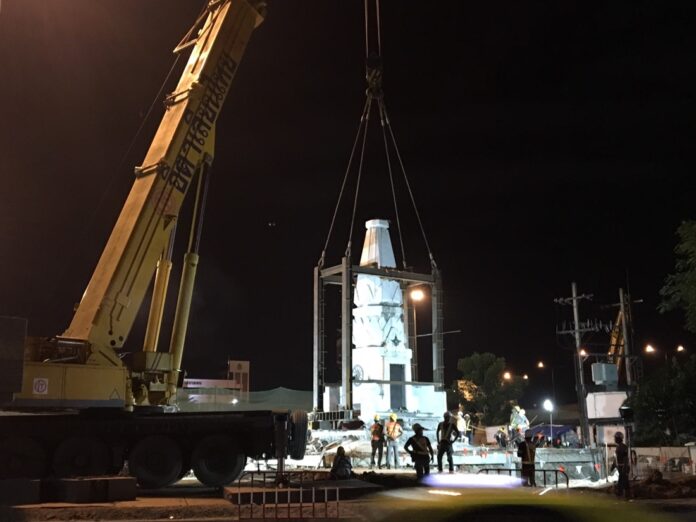 BANGKOK — In the end, no one was there to defend the Defense of the Constitution.
After standing proud in the middle of Ramintra junction for 80 years, the historic site that commemorated a victory over the royalist counterrevolution in 1933 was moved Thursday night to make way for a new elevated rail line linking Mo Chit to the northern suburb of Pathum Thani.
The operation was done without much fanfare, though a religious ceremony was briefly held for the souls of government soldiers killed in the civil strife, whose ashes are interred inside the memorial.
Read: Why is Popular Culture Afraid of the 1932 Revolution?
The Defense of the Constitution Monument, more commonly known as the Crushing Rebellion Monument, marked the government's victory over a group of pro-palace generals who rebelled in 1933 to overturn the revolution of the previous year that replaced absolute monarchy with democracy.
The monument has mostly been ignored, its only significance being a landmark at a busy intersection. But in 2010, Redshirt supporters and progressive activists started organizing rallies there. The monument became a rallying point for those who see themselves as the reincarnation of the forces which brought democracy to Thailand 83 years ago.
But it stood in the way of construction of the Green Line, so plans were made for its relocation. The sight of a crane removing the monument in the dead of night came as some ultra-royalists threaten to destroy other legacies of the 1932 democratic revolution, such as a plaque marking the spot where revolutionary leaders announced the end of absolute monarchy.
Two years ago, authorities demolished an 80-year-old monument to the constitution in Buriram province.
However, as history geeks and activists were relieved to find out, the Defense of the Constitution Monument didn't go far. Its new location stands just 100 meters from the original site.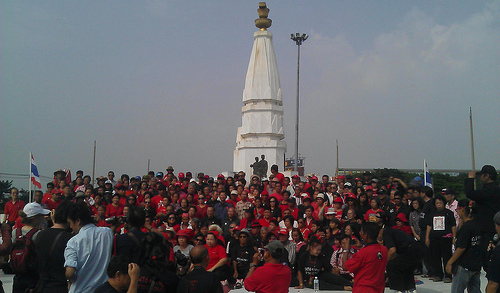 Related stories:
Ultra-Royalists Threaten To Destroy 1932 Revolution Plaque
Why is Popular Culture Afraid of the 1932 Revolution?
On Anniversary of Democracy, Cops Intercept and Arrest Observers (Photos)