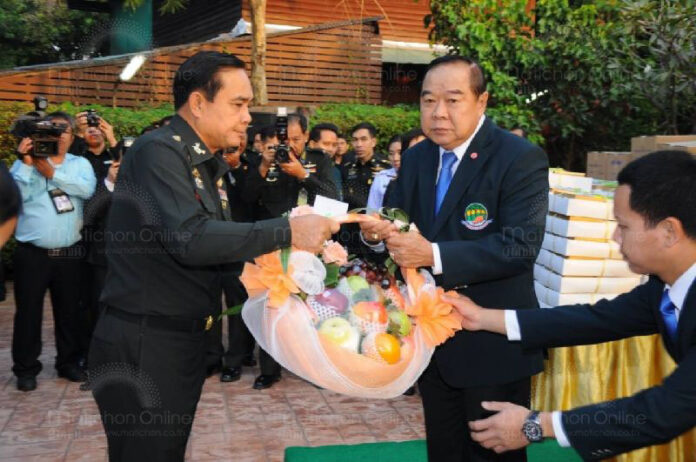 BANGKOK — Those who have worked on similar efforts believe the junta's latest bid to forge national reconciliation is an attempt to leave something lasting after elections are held. Yet they warn it's unlikely to yield results if it doesn't move away from a top-down and non-participatory approach.
A week has passed since the military regime announced its bid for national reconciliation, which has already been met with obstacles and skepticism. The regime's proposal for all parties to end the decade-old political conflicts by signing a multilateral agreement hit a snag after it was met with tepid responses. Most significantly, former Democrat Party official Suthep Thaugsuban, who quit the party to organize street protests which paved the way for the 2014 coup, publicly announced he would not sign on.
Junta deputy leader Gen. Prawit Wongsuwan heads the reconciliation initiative and has vowed to produce tangible results within three months. He made it clear that he doesn't see the military as a party to the conflict, thus drawing doubts as to the junta's sincerity. Prawit added that it would also not sign any agreement committing the army to never staging a coup again.
Read: Reconciliation Sounds Good, Thai Politicos Say, But What Does it Mean?
Somchai Homlaor, a former member of the Truth for Reconciliation Commission formed to investigate the 2010 political crisis said he believes some army officers mean well. He said the move must have come from a junta desire to show the public it has something concrete to leave as a legacy.
But forming a committee dominated by military and police officers, he said, doesn't bode well for the effort.
"This matter must be inclusive. The military must reduce its role as a party to the conflicts and acknowledge that not a small number of people who love freedom and democracy have conflicts with the National Council for Peace and Order, particularly through its use of [absolute power]," Somchai said, referring to the junta by its formal name.
The former commissioner said that no matter what he thinks of the approach, it's a good sign that reconciliation is being revived after a very brief – and fruitless – attempt made right after the coup.
Somchai warned that it could be years before any reconciliation is achieved, even if done properly, because ongoing conflicts continue.
A peace advocate and advisor to Mahidol University's peace studies program who has also worked on reconciliation over the years also welcomed the latest move, but not without caveats.
Gothom Arya also believes the junta wants to show some results before its promised elections, now most likely to be held in 2018.
"Why are they doing it now? As they say in English, "Time is up!'" Gothom said.
The military, he added, has claimed from the outset of the coup that it wants to close the political rift and bring about reconciliation.
But he also hopes the junta will make the committee more diverse. He warned that Prawit's promise to produce something concrete in three months is implausible, given the timelines of similar reconciliation efforts in other countries. He also criticized the idea of forcing people to sign a Memorandum of Understanding.
"This makes it difficult to start. When Prawit said the military is not a party to the conflict, that's also just rhetoric. They are definitely a party to the conflicts," Gothom said. "The military doesn't just solve problems, but causes them as well. If they would admit this, it would be good and we could talk."
Just to give a glimpse of how people may construe the word differently, consider what Same Sky Magazine editor Thanapol Eawsakul wrote online Tuesday about how "reconciliation" means something different to everyone.
For the coup makers, he said it means immunization from future punishment for the 2014 putsch.
"Reconciliation for politicians means to do whatever it takes as long as there will be elections," he wrote.
For the Democrat Party and various incarnations of the Yellowshirt movement, he said it means doing whatever it takes so eternal boogeyman and former Prime Minister Thaksin Shinawatra can never return. Thanapol said that for Thaksin's Pheu Thai Party and the Redshirts' United Front for Democracy Against Dictatorship, or UDD, it means doing whatever it took to secure Thaksin's return.
"Reconciliation for those appointed under an unelected regime means doing whatever it takes so they can be appointed again without running in elections. Reconciliation for technocrats who served in a coup system in so-called independent bodies means doing whatever it takes so they can keep their jobs," Thanapol added, saying that they were ready to pay lip service to any power to assure their continuity.
While the UDD agreed in principle to sign the memorandum, one of its leaders, Weng Tojirakarn, cautioned that it remains premature to know what will come. He also blamed Suthep for being "insincere" by not committing the group he led against the previous civilian government to the yet-to-be-revealed agreement.
"It reflects his trickiness," said Weng, who also reserved criticism against Prawit. Weng said it would be hard for the junta to achieve any reconciliation as long as is refused to acknowledge itself as a party to the political conflicts.
Ekachai Hongkangwan is a Redshirt, former lese majeste convict who now advocates on behalf of prisoners of conscience. He gave the junta's intentions the benefit of doubt but said no reconciliation can be achieved without justice through amnesty.
According to Ekachai, there are still 60 or so Redshirt political prisoners serving sentences on politically related convictions during the past decade.
He said nothing short of a blanket amnesty could bring about reconciliation, and even then, it may be too late.
Ekachai said many Redshirts have been imprisoned over the years while criminal cases against Yellowshirts and their allies have moved at a glacial pace. If there would be amnesty, they would not face prison, he said, while many Redshirts have been jailed, and a few released.
"This is unfair and unjust," said Ekachai, who spent nearly three years in prison for peddling burned CDs of an Australian news report critical of the monarchy.
He said all lese majeste prisoners, which he believes to be about 30, should also granted amnesty, something the junta has so refused to entertain. Among his many preconditions, he also said that any reconciliation committee must include stakeholders from all sides; in contrast, the committee established by the regime is mostly occupied by military and police officers.