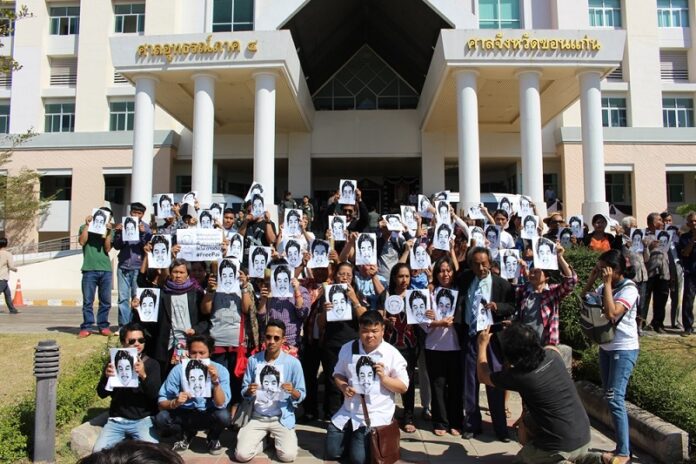 GENEVA — In a rare statement on use of lese majeste in Thailand, a United Nations special rapporteur on freedom of expression called on the authorities to stop using the law as a political tool.
Describing the law, which punishes perceived insults to the monarchy with up to 15 years in prison, as "incompatible" with international law, David Kaye wrote that it should be repealed in a statement published Tuesday.
"The lese-majeste provision of the Thai Criminal Code is incompatible with international human rights law, and this is a concern that I and my predecessors have raised on numerous occasions with the authorities," Kaye wrote.
His statement comes after at least 60 lese majeste cases have been filed since the 2014 coup. Many of those charged and detained were opponents of the ruling junta.
Junta spokesman Col. Winthai Suvarai could not be reached by telephone on Tuesday. However, the junta upon seizing power made lese majeste prosecutions a priority, saying it was necessary to protect the monarchy.
Kaye, a professor at a public California law school, urged Thailand to revise the Criminal Code and repeal the law, saying it has "no place in a democratic country."
"Public figures, including those exercising the highest political authority, may be subject to criticism, and the fact that some forms of expression are considered to be insulting to a public figure is not sufficient to justify restrictions or penalties."
The statement noted the case of Jatupat 'Pai' Boonpatararaksa, who was arrested Dec. 2 for sharing a biography produced by BBC Thai on Facebook. Jatupat is currently in detention and on Wednesday was denied bail a sixth time. On Friday he has a seventh hearing where police will most likely ask the court to keep him in custody a seventh and final time allowed under the law before the matter goes to prosecutors.
"I [am] concerned about reports that the court hearing on his bail took place behind closed doors, in contradiction to the right to a fair and public hearing," Kaye wrote.
The statement also mentioned that although junta leader Gen. Prayuth Chan-ocha has revoked an order that lese majeste be tried by the military, those already in process would still go before military tribunals, "which have applied harsher penalties on lese majeste cases."
The statement noted that in one case, a man, Phongsak Sribunpeng, was sentenced to 30 years in prison.