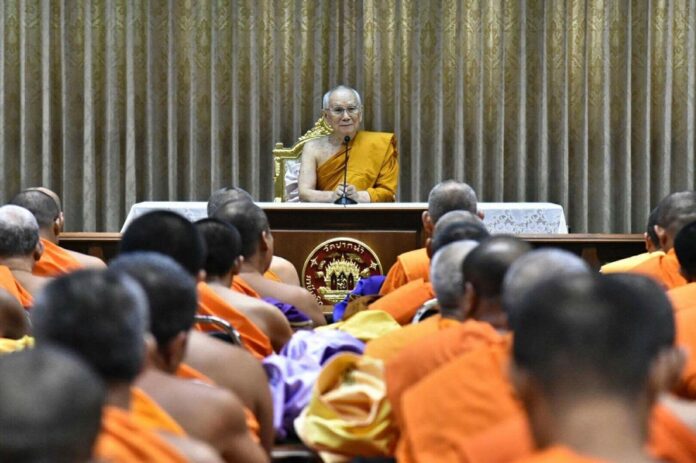 BANGKOK — Exercising his royal power under a recently amended law, His Majesty the King on Tuesday named a new leader of Thai Buddhist authorities, ending years of vacancy on the ecclesiastic throne.
Phra Maha Muneewong, the 89-year-old abbot of Wat Rajabopit, was named the 20th Supreme Patriarch by King Vajiralongkorn, junta chairman Prayuth Chan-ocha told reporters after his weekly cabinet meeting. Muneewong replaced the previous patriarch who died in 2013 at 100, and the issue of his succession has been hotly debated ever since.
Gen. Prayuth said Muneewong will be instated by the King himself Sunday at Wat Phra Kaew, aka the Temple of the Emerald Buddha.
Read: NLA Grants King Power to Name Supreme Patriarch
Muneewong is known for his focus on meditation and works at forest monasteries. He was Thailand's top Buddhist missionary – an equivalent of the Holy See's nunciature – to Australia while King Vajiralongkorn studied at a military school there in the 1970s.
Muneewong was appointed through an amendment to the Sangha Act which gave the King the sole authority to name new Supreme Patriarchs. The amendment replaced an older clause that required the prime minister and the nation's supreme Buddhist authority, the Sangha Council, to make the selection when the presiding one dies.
Proponents of the change hoped it would help reduce the chance of future power struggles among the Sangha and finally resolve the present one over who would succeed the late Supreme Patriarch, Phra Nyanasamvara.
After Nyanasamvara's death, the title was supposed to pass to the next most senior monk, Phra Maha Ratchamangalacharn.
But for years the government balked at formalizing the succession, largely due to resistance from orthodox Buddhist leaders who opposed him on the grounds he had ties to the Dhammakaya movement, a sect deemed heretical by much of mainstream Buddhism.
Related Stories:
Politics, Corruption in Battle for Naming New Supreme Patriarch