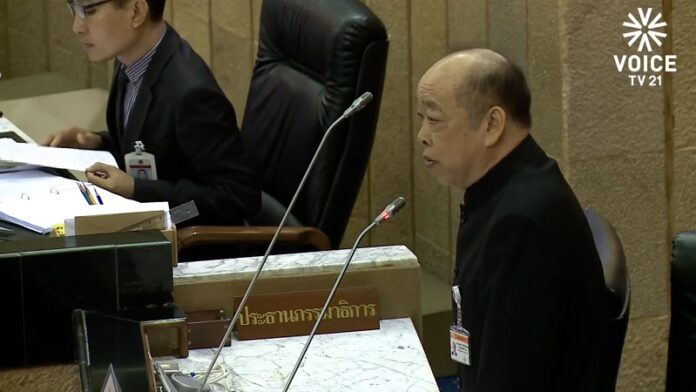 BANGKOK — Junta-appointed lawmakers are expected to retroactively remove a Foreign Affairs minister Thursday for issuing a new passport to fugitive former Prime Minister Thaksin Shinawatra over five years ago.
Following testy impeachment hearings, lawmakers are likely to endorse a ruling last month by the National Anti-Corruption Commission ruling that Surapong Tovichakchaikul was guilty of malfeasance in 2011 for issuing a passport to Thaksin.
If so, Surapong will be banned from holding political office or governmental positions for five years under 1999 anti-corruption legislation.
The vote was expected to go against the former minister, who served in the cabinet of Thaksin's ousted sister Yingluck Shinawatra, after a tense exchange during impeachment proceedings Wednesday in parliament.
While testifying, Surapong pointed out that only about 50 of its 250 members were present, despite the fact the vote was set for the next day.
"Tomorrow you will vote to remove me, but today you are not present to listen," Suraphong said, taunting the appointees of the junta which overthrew his government.
Surapong then asked the assembly president for a count of how many members were present. He was protested by lawmakers who said he had no right to make the request.
"You only have the duty to offer testimony. You have no right to do more than that," member and former senator Somchai Sawangkarn said.
"This is an honorable parliament, not the circus one, like when you were in office," Mahannop Dejvitak said.
Members of the parliament ended up voting anonymously that Surapong was ineligible to ask for attendance to be taken.
Parliamentarian absenteeism has been an issue since a watchdog group found seven members failed to meet the body's own participation requirements. The legislature's president said they had all properly sought permission to be excused.
Thaksin's passports were revoked again in 2015 by the military government over interviews he gave to South Korean media.
Related stories:
Legislature Offers Alternative Facts to Excuse 'No-Shows'
No-Shows to Retain Their Jobs on Legislature
Gadfly Spurs Inquiry into No-Show Lawmakers' Excuses
Prayuth's Brother a No-Show on Legislature, Collects Salary Anyway