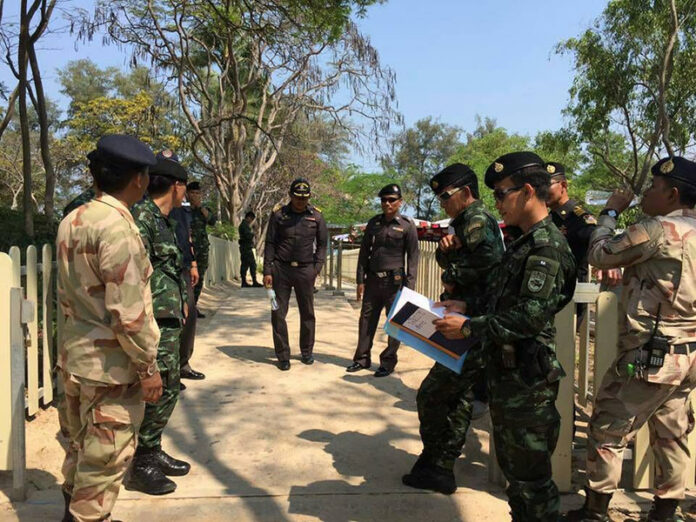 BANGKOK — Rural residents fighting forced eviction from across the country met recently and concluded that it's more difficult to win any reprieve under the junta, which is bringing force to bear against them and stifling any attempts at protest with harassment and the Public Assembly Act.
At a meeting last week in Bangkok, rural stakeholders and experts shared stories of the hardships faced by people being forced out, who are unable to negotiate temporary compromises with local officials.
"Rural people said it themselves that before the coup. They could negotiate with [forestry officials]. After the coup, they say forestry officials arrived accompanied by soldiers with guns," said Chainarong Sretthachau, a lecturer in community development at Mahasarakham University in the northeast who has studied grassroots' movements for over two decades.
Recently, 298 people up in Nan province were forced from an area of 7,000 rai (1,120 hectares) inside a national forest. The government said they were squatters.
The problem, according to the coordinator of the People's Movement for a Just Society, or P-Move, was that there may not have been any forest there.
"Poor villagers are not being protected at all," Prayong Dok-lamyai said, adding that a 1998 cabinet resolution allowed the people to be there.
Prayong, whose umbrella organization advocates for such voiceless communities, said the situation has become graver under the military regime.
"In the past, we used to have channels for negotiation. Now they have shut them all. … It's time we unite because otherwise we will be squeezed out further until we have no space left," he said March 28 at Chulalongkorn University. Prayong added that any attempts to organize locally were deemed political by the junta and suppressed.
Chainarong said a 20-year plan to deal with land encroachment and deforestation is a major policy of the junta, which styles itself the National Council for Peace and Order. Since it seized power three years ago, it has cleared beaches and forests nationwide in the same way it has pushed to clear the streets of the capital.
Rural residents who attended last week's meeting said some people have lived in the contested areas since before they were declared national or protected forests. Their hope for establishing community forests, where they could live sustainably in the forest, has become much more difficult during the past three years.
Somnuek Tuemsuphab, a human rights lawyer assisting community members facing evictions, said he has lost all hope under the junta.
"I have no policy in negotiating with men in camouflaged uniforms. I'm just waiting for an elected government," Somnuek told the audience at the meeting. "The [military] government reduces people's rights, unlike elected governments that must listen to people."
Chiang Mai-based Karen villager and activist Pruek Odecha said ethnic minorities such as Karen people living in the mountains or forested areas in 15 provinces are no match for the military, which repeatedly evicts them under the pretext they are encroaching on protected lands. Pruek said the pattern employed by the military regime often involves soldiers visiting communities with donated goods.
"Then soon they returned and took over our land and forced villagers to sign [acknowledgment that they illegally inhabited the land]," he said. "The people become wandering laborers."
Often times, television reporters will accompany soldiers to cover the raid.
The problem in dealing with junta's absolute power under Article 44, explained Suraphon Songruk, a representative of the Southern Region Farmers Confederation, is that there are no checks and balances. About 2,200 farmers and residents in Tak province, for example, are currently resisting a government plan to turn an area in its Mae Sot district along the Thai-Myanmar border into a special economic zone. Local people are concerned that their livelihoods will be severely affected and have no say in jointly determining the future of their hometown. One of their demands, as stated in a pamphlet distributed at the meeting, was for an end to the threats and harassment of local residents and their leaders.
Even in urban areas, slum dwellers are finding it difficult. Nuchanart Kaenthong, a representative of the Four-Regions Slum Network, who said the military has been sent to facilitate eviction orders in Bangkok communities, which often involve threats made by soldiers.