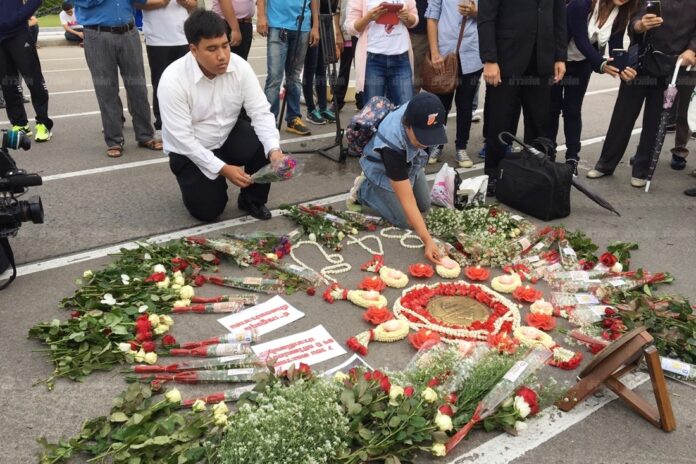 BANGKOK — A man once jailed for defaming the monarchy said he will petition junta leader Prayuth Chan-ocha on Tuesday to find out who replaced a plaque representing democracy with one bearing royalist inscriptions.
Despite being asked by the authorities to back off, Ekachai Hongkangwan said he will give Prayuth seven days to identify the owner of the new plaque. If no answer is forthcoming, he said it should be removed and kept elsewhere if none is found.
"I am not afraid. They may take me in for attitude adjustment for two or three days, but that's fine. I have been in prison before," he said.
Last week, two activists were taken away by the military and detained for questioning for hours after they tried demanding that Prayuth search for the lost plaque, which marked the revolution ending absolute monarchy in 1932.
Authorities have been mostly silent on the issue and discouraged people from making it an issue. Deputy national police chief Srivara Ransibrahmanakul said police could not investigate the public plaque's disappearance unless an "owner" stepped forward to make a claim.
The 42-year-old Ekachai – who in 2013 was jailed nearly three years for distributing copies of a news program critical of the monarchy produced by the Australian Broadcasting Corp. and now assists lese majeste suspects and convicts – said eight police officers from Lat Phrao police visited him at his home at about 4:30pm today asking him not to go ahead tomorrow.
"They asked me if it's possible that I not go. I said I had already announced it [on Facebook] so I can't backtrack," Ekachai said. Asked again if he's not afraid, the man replied, "I told you, if they want to take me in, so be it. It's not serious."
Related stories:
Former Thai Political Prisoners Band Together 'For Friends'
Freed Lese Majeste Offender Loses Faith in UDD, Pins Hope on 'Ordinary Folks'
Ex-Convict Crowdfunds Help for Lese Majeste Prisoners