Top: Soldiers visit the home of Chonticha Jangrew's parents on Wednesday to tell them to pressure her to end her political activism. Photo: Chonticha Jangrew / Facebook
BANGKOK — When soldiers poured out of a Humvee on Wednesday afternoon at Chonticha Jangrew's family home to accuse her of violating a three-year-old promise not to travel without permission, she wasn't there. Her mother, whose frail health has been affected by the stress of more than 50 such visits, was the only one home.
The soldiers told her they'd keep coming back until her daughter was home. In the meantime, they said they would install CCTV cameras to watch their home.
Chonticha is one of two young activists whose stories of frequent harassment by soldiers and security officers belie the prevailing narrative that the military regime has traded hard tactics for a softer approach.
Both young activists interviewed for this story described similar predicaments in which they continue to feel micro-managed by junta soldiers and police three years on.
Chanoknan Ruamsap and Chonthicha Jangrew, both 24, said it's not just them feeling harassed, but their parents and neighbors who've felt the heat.
"Their goal is to intimidate us," pro-democracy activist Chanoknan said.
Chonticha said four to five soldiers visited her parents' home yesterday to tell her mother to remind her that she must honor an agreement not to engage in political activities and seek permission to leave the kingdom. Chonticha has maintained the 2014 agreement was signed under duress.
Spokesman for the National Council for Peace and Order Col. Winthai Suvari said soldiers are dispatched to meet these people in order to bring about proper understanding about what's happening on their part, however.
"There should be no problem. Sometimes it's just like greetings and building relationships. Each has their own baggage, however," Winthai said Thursday.
He said their complaints of feeling harassed and having their privacy violated was due to their "perspective."
"It depends on their individual perspective. We must accept that these people's attitudes are not like majority of the people to begin with. They don't have a good attitude toward the NCPO," Winthai said, using an acronym for the junta. He said that he didn't know how long such visits would continue.
Their stories come at a time when the perception is that things have normalized without signs of large-scale repression. Media accounts of arrests and harassment – a staple in the first year after the 2014 coup – have become a distant memory to some. But micro-level, targeted repression continues, according to their accounts.
While some elements of their accounts were similar, the two handled things differently. One has opted to lay low at home and let her parents run interference, while the other has kept on the move to avoid harassment. Both said they felt harassed and denied the right to privacy.
Military House Calls
For about three years, anti-coup activist Chanoknan said she has been visited repeatedly by three to five soldiers at her parents' home in the Saphan Mai neighborhood of Bangkok's Don Mueang district.
"They only met me about 10 times [in the past three years] but they've visited my parents 20 times," said the key former spokeswoman for the New Democracy Movement. "Their commanders instructed them to threaten me, but the officers they sent tried to befriend me."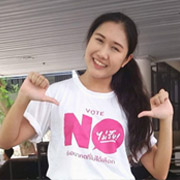 Beside intelligence gathering at her home, the same officers led by a lieutenant would wander around and talk to her neighbors, flashing Chanoknan's photo and asking neighbors if they knew her. "They tricked the neighbors into telling them about my views. They wanted to show that they were friendly."
This, she adds, was partly due to the fact that her parents, who are well-off and work in construction, support the junta.
"They warned my parents what could happen to me if I keep doing what I do. But then they would call me up and talk to me too," said Chanoknan, who faces charges of violating the junta's assembly ban. Her case is being handled by the military court.
"I think my parents don't want me to talk to the soldiers. And I get up late while they arrive early. I also think my parents don't want me to explode or say something strong to the soldiers, as it would be counterproductive to me," she said.
When pressure on Chanoknan's parents failed to end her political activism, the soldiers would say their superiors were upset.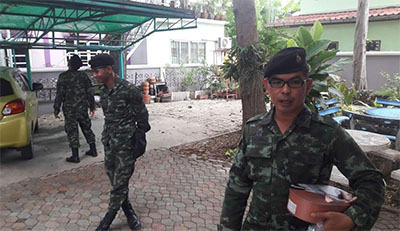 Chanoknan said the most stressful incident occurred late last year while she was in Brazil attending a training course for activists. During that time she shared on Facebook a biography of the new king produced by the BBC's Thai-language service. It was the same article shared by student activist Jatupat Boonpattararaksa, or Pai Dao Din – which got him arrested and imprisoned.
Chanoknan refused to remove the article from her page, prompting her mother to threaten not to pick her up from the airport. Her lawyer rang her up saying she could face arrest on charges of lese majeste and violating the Computer Crime Act.
She was considering remaining in Brazil before deciding to return. She had been back for less than four hours when soldiers came to her home. They were visibly upset and told her that their boss was very angry, but Chanoknan insisted she had done nothing illegal.
"They told me their duty is to protect the nation, religion and the monarchy. I asked them, 'Well what about the people? Are we people not supposed to be protected by you?' His face turned visibly stern, and for five seconds the soldier kept staring at me. He then said he didn't know what I was talking about and repeated that they only protect the nation, religion and the monarchy," Chanoknan said.
She said things settled down and before long soldiers arrived with a gift basket to wish her and her parents a happy New Year's. They also bid her farewell, saying they were being reassigned and introduced her to the new group of soldiers who would continue to visit Chanoknan and her family. By that time, her father had become so familiar with the old team he invited them to join in a round of drinks. The soldiers politely refused, she said, saying they couldn't drink on the job. They compromised by taking a couple cans of beer back with them.
The new head soldier monitoring Chanoknan was in his mid-50s. After getting a frosty reception from the young activist, she said he pleaded that he was just trying to do his job. The old mid-level officer played a gentle uncle role who would talk about looking forward to retiring to tend to an orchard or rice field.
Since then, the new group of soldiers has visited Chanoknan's home twice every month.
"But my mom mostly doesn't wake me up to meet them. He's not happy because I eventually told him that even if he comes, he should just talk to my parents. His response, she said, was to complain, "Look, life has been difficult since the coup, as I have to knock on the doors of strangers."
Though the faces changed, Chanoknan said their objective was the same. Intimidation, firstly, but also to put a better face on the junta for her, she said. They also really wanted to know how she sees things and try to win the hearts of her parents.
"I mean, my mom may literally lock me up if the situation continues on this course," she said.
As for the efficacy of such treatment, Chanoknan gave it a thumbs down, saying it's only succeeded in making her sees the junta in even worser light.
"It's not a good [impression] because everything is fake. The first batch was clearly fake. The uncle used a very soft tactic and looks kind, though."
He message to Prayuth is the junta should stop intimidating people by visiting their homes. "It's not working. It makes me angry and feel hatred and irritation."
On the Move, But Can't Outrun the Paranoia
Unlike Chanoknan, Chonticha Jangrew, 24, handled the soldiers' repeated visits to her parent's home. After a few months, she opted to leave and rent one apartment after another to avoid them, while her parents have been strained by the frequent visits.
Three years on, soldiers continue visiting her parents. Chonticha reckons they've gone to their home more than 50 times.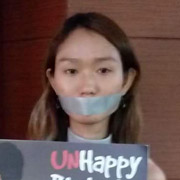 "I have changed places four or five times now, with a friend renting the place for me, so the junta can't trace me. Now, I'm thinking of looking for a new apartment, but I have no energy," said the former member of the New Democracy Movement who has joined the recently established Democracy Restoration Group, or DRG.
Chonticha said that last week, while she was sleeping, her landlord used a master key to enter her room in the morning. Upon seeing her, she said that she wanted to replace the lights with energy-saving bulbs.
"But she had no bulbs with her. Then she awkwardly apologized and left," said Chonticha, who now wants to move again. "I don't feel safe."
Chonticha faces multiple charges, including violating the junta's ban on political gatherings of more than four people and sedition. In 2015, she was imprisoned for 13 days along with other New Democracy activists.
Beside being absent from home for two years hasn't stopped soldiers from showing up at her parents' door.
Chonticha's father, who's in his 50s, is a sergeant major first class who works in Bangkok.
"His stance at the beginning was pro[-coup]. After time passed, and he saw I was altruistic in my struggle and that the NCPO is causing problems, his attitude changed," Chonticha said.
Nonetheless, her father has been sneered at by his colleagues and pressured by his commanders because of her, and is considering resigning.
"He's a quiet person but has become stressed and pressured. He's making a decision on what preparations would be needed if he were to resign," she said.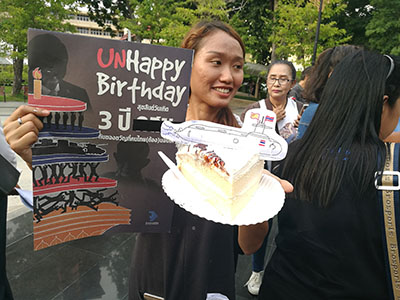 Her mother, a housewife, has been in frail health for a long time and the repeated visits and reactions of her neighbors are making matter worse, she said. Soldiers allegedly patrolled the area telling neighbors she's a lawbreaker. Moreover, Chonticha said they entered the residential village without providing the security guards with proper ID cards.
"Often times, an unknown car, whose front and back license plates did not match, would simply park in front of my parents' home, and the driver would take photos of the town house or my mom talk with neighbors and leave," she said. "This is harassment. Neighbors have also become wary and more distant to my parents."
She said the intimidation made her feel more negatively about the junta.
"There's the loss of privacy. Not knowing if your phone is being tapped," she said, adding that a reliable source said her phone calls – incoming and outgoing – were being monitored. "At times the phone produces hazy noises, but I don't really have concrete evidence."
Saying the loss of privacy was too much, Chonticha left her home in Pathum Thani's Lam Luk Ka district a few months after the coup and has moved from one anonymous apartment to another.
But that didn't put a stop to the attention she was getting from the authorities. Oftentimes, while engaging in public anti-junta activities, she said plainclothed police officers would sexually harass her.
"One day I was asked why my boobs were so big today," she said. "I said it's not kosher, but he just laughed. I was stunned and just walked away. One even sent a text message wishing me a Happy Valentine's Day."
She said some policemen and soldiers still call her up on her mobile phone. She reckoned it's pointless to change the phone number because it wouldn't be difficult for them to obtain the new one.
"All this harassment made me worried. Where's my privacy?" she said.
Despite the pressure, Chonticha said they didn't change her mind.
"Their goal was to control me but they failed. In fact it only served to show how terrible the dictatorial system is and the needs for change," she said.
The price Chonticha paid was dear, however.
By late last year, after the death of King Bhumibol, Chonticha said she became the object of a social media witch hunt, where she was accused of being anti-monarchy. She said the stress caused her to throw up after eating and experience numbness on the left side of her body. She blamed the latter on an electric shock she and others experienced while protesting on the first anniversary of the May 22 coup at the Bangkok Arts and Culture Centre in 2015. They never determined the cause.
Earlier this year, she fainted. She was taken to a hospital and diagnosed with a migraine. A psychiatrist she later spoke to wrote four letters on a sheet of paper. It read "PTSD," or post-traumatic stress disorder.
"I was confused and didn't know what it was at the time. It must have been scary, so the psychiatrist didn't even tell me verbally. I asked him what it was, but he didn't explain to me. He said I should just go and look it up and come back for consultation," she said.
When she was in prison, she had to be prescribed sleeping pills because insomnia would keep her awake until 3am, with just an hour or two to sleep before guards woke the prisoners up.
Today she still wakes from nightmares thinking she is being woken by a guard. Chonticha is considering seeking a new psychiatrist. Those she's met at public hospitals haven't worked because she refused to open up and talk about her travails.
It's been over a month now since she last saw a therapist. She said, if anything, she would likely seek a psychiatrist she can trust isn't a junta supporter to feel sure she's getting proper treatment.
"I am not surprised that I can't trust this society. We are living under a dictatorship wherein those who harm us are the very same people who arrest us and take us to the military court," she said, acknowledging that the past three years' experiences have made her somewhat paranoid. "Those who sent us to prison are the very same people who harm us."