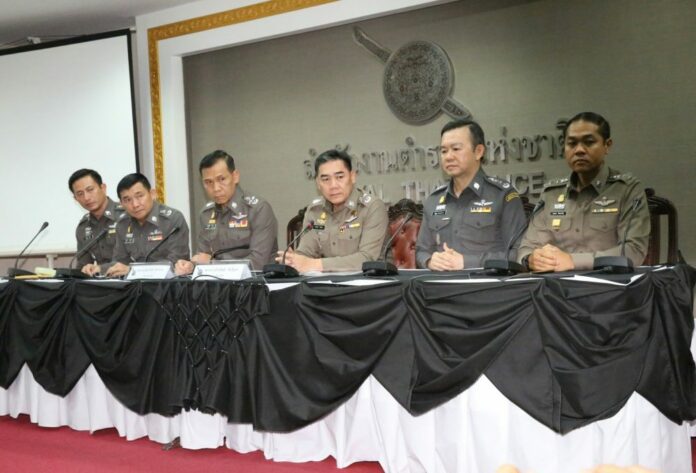 BANGKOK — This year's annual police reassignments saw more than 5,700 officers reshuffled by an order signed Wednesday by the police commissioner.
Notable promotions included that of the bomb squad chief responsible for investigating the recent spree of attacks in the capital, a bodyguard of former Prime Minister Yingluck Shinawatra, a politician's son once accused of shooting a cop dead in a nightclub and an officer previously transferred for allegedly tolerating an underage brothel in his jurisdiction.
Although the top brass of the force remains unchanged this year, thousands of officers had their postings changed overnight by the stroke of a pen wielded by police chief Chakthip Chaijinda.
It was a highly anticipated event among the force, as many officers were relocated hundreds of kilometers from their posts. It's also a time when promotions are awarded, leading the public to speculate over who holds favor with the authorities.
Among those promoted in the latest shakeup is Col. Kamthorn Auicharoen, commander of the police explosive ordnance disposal unit, an agency leading the investigation into recent bomb attacks in Bangkok. Kamthorn was made the new deputy chief of the 191 emergency response task force known as the Patrol and Special Operation Division.
Col. Watanyu Witthayapalothai, who oversaw the security detail for former premier Yingluck, was moved to head the intelligence division of the Special Branch, or secret service.
Despite a previous reassignment for allegedly turning a blind eye to a notorious flesh parlor under his jurisdiction last year, Col. Kittipong Wisetsanguan, former chief of Huai Khwang police, now heads an agency responsible for investigating criminal backgrounds.
His new title means Kittipong, whose former station failed to take action against Nataree – a brothel that employed minors and trafficked sex workers – is now in charge of conducting criminal background checks for the Special Branch Police.
Another notable promotion is that of Duang Yoobamrung, the son of former politician Chalerm Yoobamrung.
Duang, formerly Duangchalerm, has a record of run-ins with the law. In 2001, while holding the rank of army lieutenant, he was accused of shooting a police officer dead in a nightclub, prompting the army to expel him. Duang fled the country for a year before returning. He was later acquitted.
In the latest shakeup, Duang was promoted from captain to major.
But not everyone saw promotions. Those moved to less prestigious jobs included Maj. Praiwan Aryuwong, a detective inspector for the fourth regional police command.
Praiwan's resume covers high-profile murder and narcotic cases, most recently the gruesome murder of a 22-year-old woman in Khon Kaen, which has sent the media and public seething.
Praiwan's team soon identified a group of suspects – including Preeyanuch "Preaw" Nonwangchai, who allegedly sawed the woman in half – and extradited them from Myanmar.
If he expected any reward after all the media exposure, he was wrong. Wednesday's order demoted him to the rank of inspector of a rural police station in Sing Buri province.