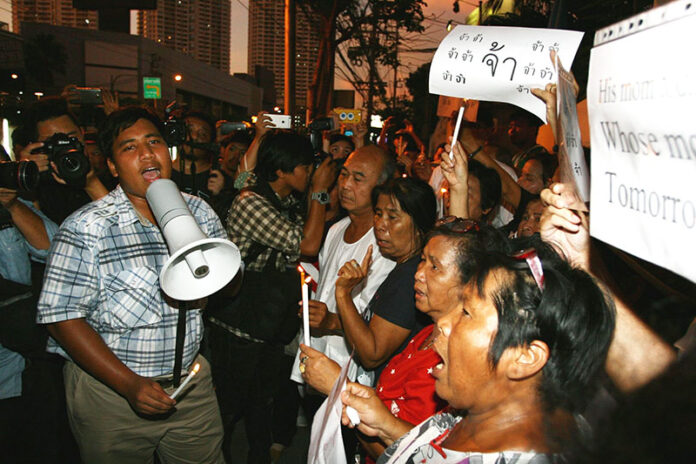 BANGKOK — The UN high commissioner for human rights called Tuesday on the military government to stop trying civilians for lese majeste in military courts.
Coming four days after a tribunal handed down the longest known sentence in such a case, the statement was issued by a spokesman of the United Nations High Commissioner for Human Rights. It also said the chances of being cleared of the crime have fallen greatly, as the number of cases has surged.
"Between 2011 and 2013, 119 people were investigated for insulting the monarchy. Over the last three years, between 2014 and 2016, that figure has more than doubled to at least 285," read the statement signed by spokesman Rupert Colville from Geneva.
Read: Man Gets 35-Year Lese Majeste Sentence for Facebook Page
The UN rights body said it was "deeply troubled" by the increase in prosecutions and severity in sentencing, noting that the rate of conviction since the coup increased to 90 percent from a 76 percent rate between 2011 and 2013.
A spokesman for the ruling junta said there was a good reason for the higher rate. Many more cases in the past three years have involved online offenses for which more concrete evidence could be found to support conviction.
"This is most likely a result of computer evidence, that can always be retrieved," Col. Winthai Suvaree said Tuesday afternoon. "That's why not many witnesses have been needed."
The rights organization also called for the law to be amended. Winthai said amending the law has nothing to do with the military government. As for the call to transfer pending cases to civilian courts of justice, Winthai was non-committal but said he would look into it.
On Friday, 35-year-old Wichai Thepwong was sentenced to a 35-year prison term by the Bangkok Military Court for 10 Facebook messages deemed offensive to the monarchy. It was the longest sentence of its kind.
In August 2015, military courts sentenced two people in one day to a combined 58 years in prison for allegedly insulting the monarchy over Facebook. The 30-year sentence given to a Kanchanaburi man set a new record at the time. A woman in northern Thailand received 28 years in jail.
Correction: due to an editing error, the post-coup conviction rate was misstated as 24 percent. It is in fact 90 percent. An original version of this article also said the statement was released by UN High Commissioner for Refugees. It was in fact released by the UN High Commissioner for Human Rights
Related stories:
Man Gets 35-Year Lese Majeste Sentence for Facebook Page