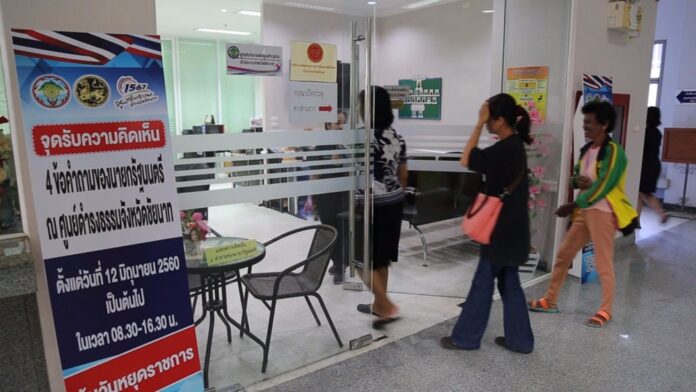 BANGKOK — A government official on Tuesday proposed opening locations for the public to answer questions posed by junta leader Prayuth Chan-ocha about Thailand's political future after the first day met a lukewarm response.
Only 395 people submitted answers Monday to Gen. Prayuth's controversial four questions at 51 designated locations in the capital – each district office and a government complaint center near the government house, where 14 people showed up to offer responses. Just over 7,000 people responded nationwide.
The low turnout rate led Interior Minister Gen. Anupong Paochinda, who is in charge of collecting responses, to suggest adding sites in shopping malls popular with Bangkokians of means.
If the mall owners cooperated, Anupong said it could be expanded beyond Bangkok. He is also considering using the internet but said responses must be verified with ID numbers.
Throughout the kingdom, 1,007 centers have been assigned to collect answers to Prayuth's questions.
Prayuth posed the four questions on May 26 during his weekly televised address.
Among them was:
"Elections are important for a democracy. But they are not the sole determinant of the country's future and other matters, such as whether a country has a strategy or undergoes reforms, is this true or false?"
The questions were criticized for being loaded attempts to win responses to justify the regime's continued stay in power.
Korakot Sangyepan, a 24-year-old member of the Democracy Restoration Group, said last week there was no guarantee the outcome would be fair or reliable. She said it seemed an attempt to measure the junta's popularity.
Around the country, 7,012 people responded on Monday. The Interior Ministry will summarize and report the results every 10 days.
The most responses came in the northeastern province of Kalasin, where 662 people registered their opinions. The lowest was in the southern province of Phang Nga. Only six responses were filed there. The content of those responses has not been made public yet.
The Interior Ministry is in no rush, according to Prayoon Rattasenee, a deputy permanent secretary. Prayoon said perhaps the questions may not yet have percolated widely enough. The ministry is also considering accepting responses through mail and email, but said it would have to look into the details first.
Former PCAP leader Suthep Thaugsuban made his response public on Facebook on Monday, saying that if elections would lead to a government lacking in good governance, there should be no elections.
Prayuth also asked:
"Do you think the next election will lead to a government that practices good governance?
"If not, what should we do?
"Do you think that politicians who've shown inappropriate behavior should have the opportunity to seek office again? If they gain office again and new problems arise, who should fix them and with what means?"
Update: This story has been updated with updated numbers of submitted responses from Monday.