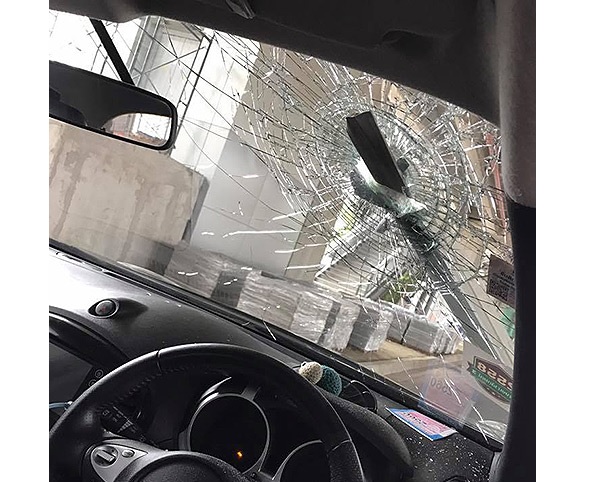 BANGKOK — When a metal beam fell from a rail construction site Monday and speared a passing car's windshield, nearly skewering the driver, it wasn't the first such incident to plague construction of the Dark Red Line. Nor was it the second or fourth.
Monday's incident was the seventh known accident to occur since work began four years ago. And while no one died this time – others have been fatal – it turned public attention again to Italian-Thai Development Co. Ltd., the firm responsible for the project.
Thanakrit Thanomkiat, 35, said he was driving his Nissan yesterday morning on Vibhavadi Rangsit Road toward Kamphaeng Phet 6 Road when the long, cemented-coated steel beam fell from the overhead construction site of the SRT Dark-Red Line's Bang Khen Station.
Thanakrit went to file a complaint and posted a photo to social media. He was uninjured, but the roof and windshield of his car were badly damaged.
A project engineer with the State Railway of Thailand or SRT, who granted Italian-Thai the 21 billion baht construction contract, blamed contractor carelessness.
Jare Rungthanee said it failed to enclose all of the specified area and the pole fell through an unprotected space.
Italian-Thai was summoned Tuesday to meet with SRT officials before the rail agency considers punitive measures.
Pichit Akrathit, the deputy transport minister, said the contractor must also pay compensation and a fine. He said the SRT would be summoned before the ministry to explain why accidents at their construction site were so frequent.
Pichit said they were reviewing the contract with Italian-Thai under public pressure to scrap the deal with the company, which has a serious record of accidents.
In the past four years, eight people have been killed as a result of the seven accidents involving the project.
Construction was ordered to halt after three workers were crushed to death by large steel beams on April 28. In January 2015, seven people were hurt when scaffolding fell at a project in front of the IT Square shopping mall in the Lak Si district. A Burmese worker was killed by falling concrete blocks in October 2015 on Kamphaeng Phet 6 Road in front of Wat Don Mueang.
The first phase of Dark-Red Line construction commenced in 2013. It will run from Bang Sue to Rangsit. The inaugural run of the Dark-Red Line is set for 2020.
Thanakrit, the car owner, said he is due to talk to Italian-Thai representatives today about compensation.