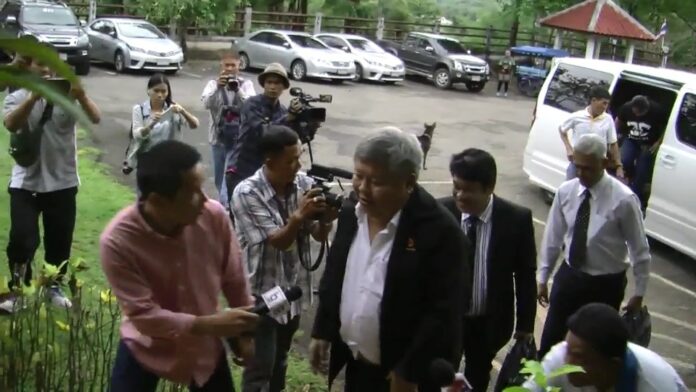 KANCHANABURI — A powerful construction magnate accused of wildlife poaching was granted bail Wednesday after denying all charges in court.
Premchai Karnasuta, president of Italian-Thai Development, entered his plea in the Kanchanaburi provincial court at the last hearing before a trial can proceed. He appeared alongside three co-defendants arrested with him in February at a wildlife sanctuary in the province.
"I'm not worried," Premchai said after the hearing. "I didn't kill the black panther. I'm ready to prove my innocence on all counts in court."
Police said they found evidence the group killed and ate a black panther in the Thungyai Naresuan Wildlife Sanctuary.
They entered not guilty pleas on all charges, which related to possession of firearms and hunting protected species in a wildlife sanctuary, according to a statement from the court.
"Had the four defendants admitted their guilt, the court would have been able to hand down a verdict right away," it said. "As they denied the accusations, the court will set a date to settle the issue … and set a meeting between the plaintiff and defendants for further review of the evidence."
It added that Premchai was granted bail on a bond of 400,000 baht under the condition he not leave the country.
The next court date is set for May 21.
If convicted on all counts, Premchai faces up to 34 years in jail and a fine of 333,000 baht.
On Tuesday, prosecutors said they would seek 3 million baht in compensation for the national parks department from Premchai, whose wealth is estimated in the 7.6 billions of baht.
The case has ignited passions, drawing renewed anger toward an uneven justice system that is seen as granting impunity to the wealthy and powerful.
Related stories:
Attorney General to Seek 3 Million Baht From Premchai
Premchai Claims Innocence, Refuses to Step Down
Premchai Indicted for Illegal Firearms Possession