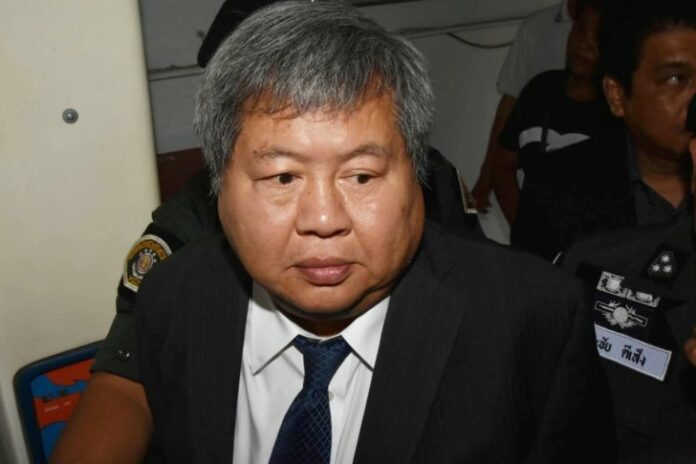 BANGKOK — A tycoon accused of poaching wildlife in a sanctuary claimed his innocence Wednesday and refused to step down from his company.
Speaking at length for the first time about the case, Premchai Karnasuta, CEO of Italian-Thai Development, sought to gain confidence for the company during stakeholders' meeting, insisting he did not kill a black panther two months ago at the Thungyai Naresuan Wildlife Sanctuary in Kanchanaburi province.
"I didn't do it. I arrived there Saturday evening and went to bed. I went into the sanctuary the next morning and got arrested in the evening. I was detained for two days and two nights," he said. "I couldn't contact anyone because my phone was confiscated."
He added that "hundreds of reporters," were waiting when he was released, and that images leaked to the media "were probably let out by the forest department."
Premchai and his party were arrested Feb. 5 in the sanctuary. He now faces lawsuits on seven poaching-related counts, including illegal firearms possession, hunting in a wildlife sanctuary and hunting protected species.
He also said he won't resign from his position, asserting his company is not blacklisted by public or private organizations.
"I can assure you about that. I'm still trying to wrap my head around what happened, and I'll try to work harder," he said. "I called all bureaus and ministries, and everyone felt sorry for me."
Related stories:
Premchai Indicted for Illegal Firearms Possession
Prosecutors Drop 5 Charges Against Premchai
Premchai Gets Bail, Not Allowed to Leave Country
Premchai Puts Off Police Summons
Premchai Chewed Panther's Leg Then Tossed It: Investigators
Ex-Official Wanted For Helping Premchai Linked to Italian-Thai
Forest Ranger: Poacher Premchai Offered Bribe
Hero Worship: Thailand Lionizes Humble Defender of the Wild
Rangers: Premchai Ate the Leopard in a Soup