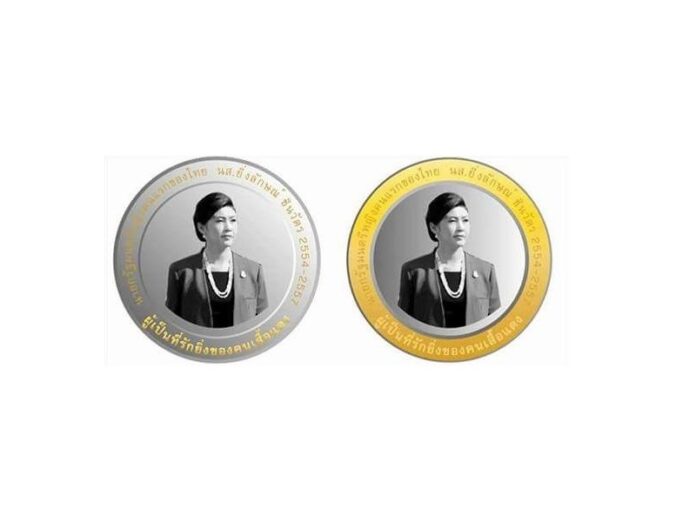 BANGKOK — A supporter's attempt to mint coins with the image of former Prime Minister Yingluck Shinawatra came under heavy criticism since Saturday for possibly inviting more trouble for the embattled politician.
The proposal mostly drew outrage from Yingluck supporters, who said such move by Anurak Jeantawanich, or Ford Red Path, could only invite allegations that the former prime minister doesn't know her station in life and is presenting herself on a par with royalty. In Thailand, legal tender coins are only made with the image of members of the royal family, chiefly the king.
Yingluck's close aide and niece Chaiya Wongnapachant said Monday on the phone that Anurak has never sought permission from the ex-premier regarding the matter and stressed that Yingluck has no desire to have such a coin minted.
"No matter what's his intention, if he truly loves and respects the [former] prime minister, then please don't do it. This is inappropriate," said Chaiya, adding that this is a violation of Yingluck's rights and that legal action would be taken if necessary.
Chaiya refused to elaborate as to why it's "inappropriate." Many on Facebook said ultra-royalists are waiting to exploit the issue to further undermine Yingluck – who's already facing trial on alleged mishandling of a rice-pledging scheme when she was the prime minister.
"If it's done, she will be accused of being 'ambitious' or of making herself holy and the person who will suffer from that is Yingluck and not the man making the coins praising Yingluck," wrote Laos-based exiled political fugitive Nithiwat Wannasiri on Facebook Monday.
"Oh my God!…This is like sending [Yingluck] to the execution ground," wrote an anti-Single Gateway Facebook account on Sunday.
Redshirt leader Thida Tavornsaet Tojirakarn said on the phone Monday that such coins or medals are mostly made to honor respected monks or senior members of the royal family.
"Less-senior members of royal family won't even have such coins made," said Thida, adding that Anurak may be well-intended but not thorough enough in thinking about possible negative repercussion. "It's risky and inappropriate."
After coming under a barrage of criticism, Anurak announced Sunday evening on Facebook that he was scraping the project after receiving a phone call from an aide of Yingluck whom he refused to name. Anurak insisted on the phone Monday he wasn't aware that the computer-generated image of the round coin resembled a legal tender coin. He insisted that his intention was that there be a metal bail attached to it for people to wear as a pendant.
When told it had the appearance of a legal tender coin rather than an amulet because no attached bail was visible, Anurak claimed it was just an incomplete design. He also defended his move by saying he didn't think he had to ask for Yingluck's permission.
The coin design in white metal displayed an image of Yingluck and inscriptions around it describing her as the first female prime minister of Thailand and "the one who is very loved by redshirts," among others.
Anurak said he decided to make these nickel coins, 3.5 centimeters in diameter – originally planned at 500 pieces to be sold at 150 baht each – after seeing Yingluck crying on her birthday on June 21. He announced his decision a week after but removed most of the social media posts after abandoning the project.
"I think it's best I stop it first because it has been interpreted distortedly," said Anurak on Monday. "The activist carrying out this campaign can be criticized but [former] Prime Minister Yingluck must not be misunderstood."
When asked if he had learned any lesson from this debacle, Anurak said he hadn't. "I didn't commit any mistake. What happened was a distorted interpretation but I end this to prevent further misunderstandings."