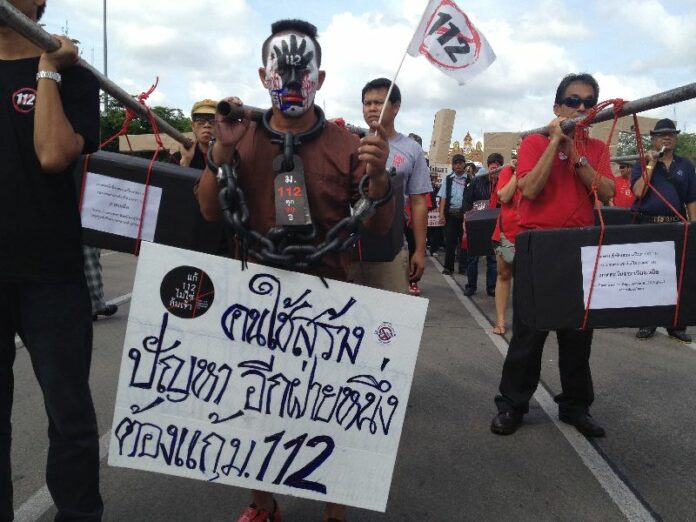 BANGKOK — The family of a former campaigner against royal defamation laws detained by soldiers two days ago have yet to find out where he's being held, a civil rights activist said Monday.
Charoenchai Saetang, 60, was arrested Saturday at his home by soldiers at his home, according to a Thai Lawyers for Human Rights activist who had spoken to his family. As of Monday afternoon no officials or agencies had stepped forward to claim responsibility for his detention.
"They searched his home without a warrant. They only cited Section 44," Sorawut Wongsaranon said by phone, referring to a constitutional clause used by the military to detain individuals up to seven days without charges.
Read: Lese Majeste Conviction Rate Higher Since Coup, UN Says
Sorawut said he reached out to the local police station, where he was told soldiers had taken Charoenchai to file a report on suspicion the 60-year-old may have committed an offense under Section 112 of the Thai Penal Code, which outlaws insults to the monarchy.
"The soldiers told [police] that he potentially violated Section 112," Sorawut said.
Although Charoenchai's family said soldiers told them they were taking him to the 11th Army Circle base, the commander of that installation denied any knowledge. Lt. Gen. Sanitchanok Sangkhachan said security forces never informed him when they brought someone to be jailed at his base.
"I'm not involved," Sanitchanok said. "You must check with them directly."
A spokesman for the Ministry of Defense also said he had no information about Charoenchai's arrest.
A report on a local news site said Charoenchai joined a campaign that called for Section 112 to be abolished prior to the military takeover in May 2014.
Although the text of Section 112, or lese majeste, only outlaws insults made to the king, queen and the heir apparent, it has been interpreted in recent years to cover any negative discussion about the monarchy. Even criticism of Section 112 itself risks legal repercussion.
Related stories:
Man Gets 35-Year Lese Majeste Sentence for Facebook Page