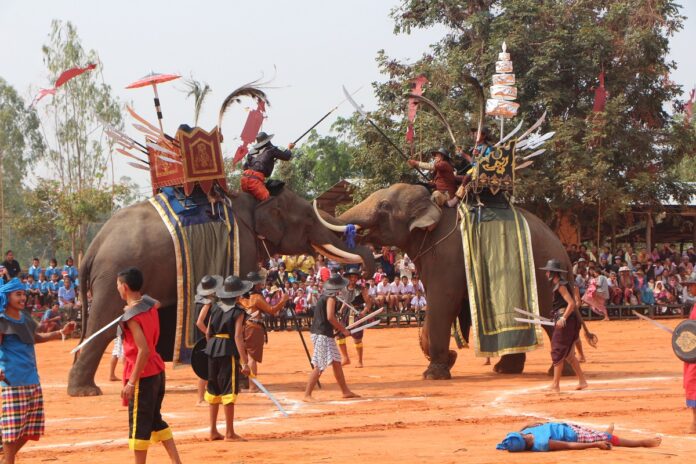 BANGKOK — An official wants his former business partner prosecuted for insulting the monarchy, a serious charge that bears a penalty of up to 15 year in prison, because of a heated argument over borrowed elephants.
Former national park chief Chaiwat Limlikit-aksorn went to the Crime Suppression Division Thursday to file the charge, known as lese majeste, against an elephant breeder. It's the latest use of lese majeste in military-ruled Thailand, where prosecution of the crime has spiked and the conviction rate increased to 90 percent since the coup.
Chaiwat said the Ayutthaya-based businessman, Laithongrian Meephan, made inappropriate references to the monarchy in February while the two were arguing over a decade-long dispute about five elephants Laithongrian borrowed from the national parks department in 2006.
"He used the monarchy in his threats against me," Chaiwat, who now leads an anti-poaching taskforce, said by telephone Thursday night. He did not elaborate upon the nature of the threats.
Laithongrian said he heard about the case from news reports and police have yet to contact him.
The businessman said he cannot recall what precisely he said during the argument, but added that he's willing to apologize if the court proves him to be in the wrong.
"If we do something wrong we must accept it," Laithongrian said by phone. "If I violate anything, I will accept my guilt and set example."
According to Chaiwat, Laithongrian borrowed those five elephants in 2006 for a tour in Germany with the promise he would return them in a year. Laithongrian, who owns a tourist attraction called Ayutthaya Elephant Palace, also posted a bond of 6 million baht as a surety, the official said.
But the elephants never returned. Instead, Laithongrian requested the department to grant him ownership of the animals, but the officials refused to do so because it was a complicated matter and "no one dared sign the paper," Chaiwat said, again without elaborating.
Earlier this year the department moved to seize the bond, a move Laithongrian decried as unfair, as he had consistently filed for permits to own the pachyderms.
Laithongrian and Chaiwat later confronted each other at a February news conference. An argument broke out and at one point, according to recording of the meeting, the businessman invoked the monarchy in his decision to sell elephants abroad, which prompted him to file the complaint Thursday under Section 112 of the Criminal Code.
"I know 112 is a serious charge," Chaiwat said. "But we are state officials. If we do not act, we may face charges of negligence."
Laithongrian said he's unconcerned with the law's hefty punishment, as he believes he will manage to receive leniency from the court if he's found guilty.
"Last night my wife and children asked me if I'm stressed. Why should I be stressed?" Laithongrian said. "I'm over 60 now. The most they are going to sentence me is six months. Maybe the court will be merciful and even commute my sentence."
Suthin Sapmuang, a commander of the police force that received Chaiwat's complaints, declined to talk about the case. He said the central police command, not his unit, would make a decision on how to proceed with the lese majeste complaint.
"The power whether to pursue 112 is not with us," Maj. Gen. Suthin said by telephone. "Please don't report about this. It may cause damage."
Chaiwat is a former chief of Kaeng Krachan National Park. During his tenure there he was responsible for evicting Karen communities from the forest, a campaign he defended as an effort to reclaim public land.
Chaiwat was also accused of engineering the abduction of Karen activist Porlachee "Billy" Rakchongcharoen, though he was later cleared by the courts.
Related stories:
Six Charged in Largest Known Single-Day Lese Majeste Crackdown
Lese Majeste Conviction Rate Higher Since Coup, UN Says
Man Gets 35-Year Lese Majeste Sentence for Facebook Page