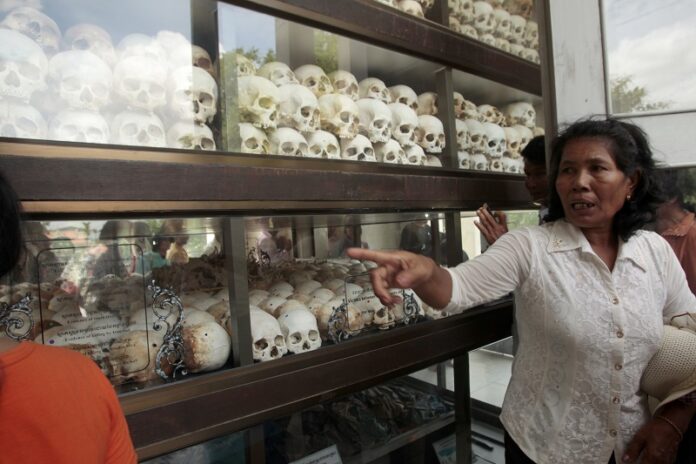 PHNOM PENH — Prosecutors in the U.N.-backed trial of two leaders of Cambodia's former Khmer Rouge regime on charges of genocide and other crimes called Thursday for life imprisonment as the only appropriate punishment.
Co-prosecutor Chea Leang concluded the prosecution's summation of the case by saying the evidence showed that Khieu Samphan, 85, and Nuon Chea, 90, were among the small group that planned and implemented the communist group's radical policies. He described the Khmer Rouge regime as "one of the most cruel and complete systems of human rights abuse put in place in any country in the 20th century."
The Khmer Rouge has been blamed for the deaths of 1.7 million Cambodians from execution, starvation and inadequate medical care during its 1975-79 rule.
Khieu Samphan, the regime's head of state, and Nuon Chea, right-hand man to the group's late chief, Pol Pot, were already convicted of crimes against humanity in an earlier trial. The proceedings were split into two parts by the tribunal for fear that the defendants might die before a verdict was reached if it was kept as one. Also convicted earlier was the head of the Khmer Rouge prison system who ran a torture center in Phnom Penh.
The current trial, which also holds them responsible for implementing policies leading to murder and rape, began in October 2014.
"The only appropriate sentence for both accused is life imprisonment," Chea Leang said. "By handing down such a sentence it will reflect the gravity of the crimes committed by the accused." Cambodia does not have the death penalty.
The Khmer Rouge seized power in 1975 after a bloody, five-year civil war. They immediately attempted a radical transformation of Cambodia into a peasant society, emptying cities and forcing the population to work on the land. They backed up their rule with ruthless elimination of perceived enemies, and were finally driven from power by an invasion from neighboring Vietnam, which had suffered border attacks from Khmer Rouge forces.