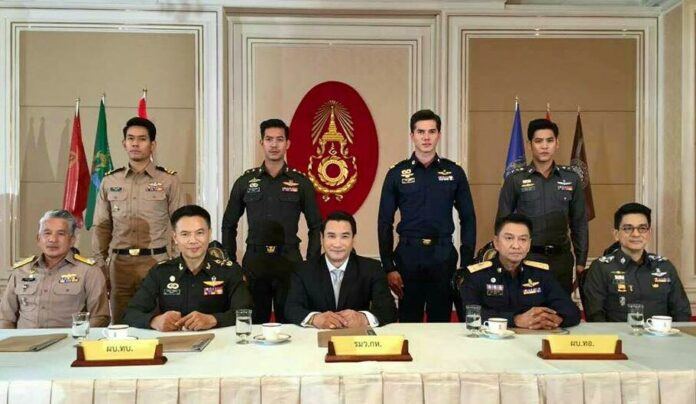 BANGKOK — A military-themed romantic soap opera premiered Saturday, inaugurating three months of the television show, which a mass media expert said is an attempt by the military government to rebrand itself and regain public popularity.
"Love Missions" is a soap opera series that follows four protagonists who work in different branches of the armed forces: the army, the navy, the police and the air force. The show, which was filmed with props provided by the respective branches of the military, was criticized by mass media expert Pasavit Boonkongchuen from Chulalongkorn University's Faculty of Arts, who viewed the series as an effort by the military junta to "rebrand" itself.
"The military junta is losing popularity really fast and the rebranding could be useful at this point. If the people can get behind the protagonists in the drama making 'difficult decisions' for the good of the country, maybe the trend of thinking may transfer onto the government as well," Pasavit said.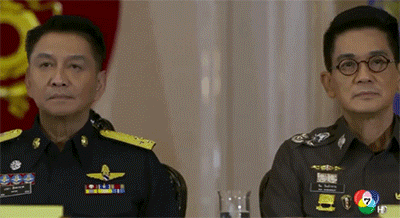 The first installment, "Pull the Trigger on My Heart," follows the romance between Royal Thai Army Capt. Purich Sattakamonpan, played by Sukollwat "Wier" Kanarot, and Napaschol, played by Pattarasaya "Peak" Kreuasuwansiri, a mobile clinic doctor. The couple are deployed to "the borders" to take down drug trafficking rings and "anti-capitalist international terrorist" organization Black Iron, composed of foreign and half-Thai characters named Jason, Martin and Victor.
Pasavit said that having good-looking actors play the roles of soldiers legitimises real-life military actions for the good of the country.
"Thai dramas usually combine two of the nation's favorites: romance and good looking people. I'm not saying these qualities would transfer to real life completely in terms of looks, but having good looking people on the lakorn makes it that much easier to swallow," he added.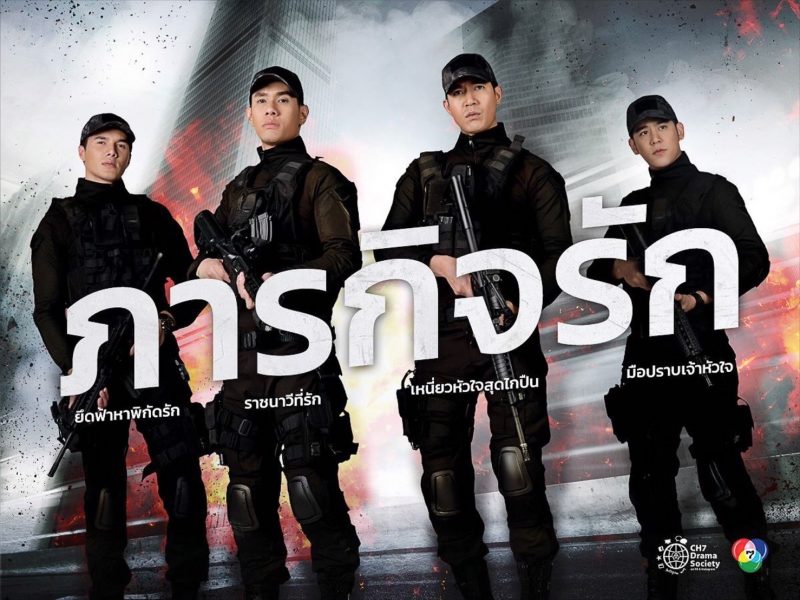 "Our mission is to protect Thailand. My heart's mission is for you," goes the opening song.
Most heard about the soap for the first time when Wassana Nanuam, a self-styled military reporter working for a local newspaper, posted a photo of the cast members lined up in a similar way to the National Council of Peace and Order, or NCPO, on June 18.
"NCPO 2!!! At a press conference announcing their takeover of the country, the Ministry of Defense brought its officers on air. They will return happiness to the citizens with the soap opera 'Love Missions' this July! Hehe," the caption on Wassana's photo read.
The top trending tweet in Thailand during and after the soap's airing was #PullTheTriggerOnMyHeart, full of fan screenshots and positive comments about the first two episodes, especially in regard to the actors' attractive appearance.
"Shadow team พร้อมปฏิบัติการ"
โอ๊ย! ทีมทหารอากาศขาดรักค่ะ👨🏻‍✈️

งานดีทุกคนโลยยย //ใจเต้นแรง#ภารกิจรัก #เหนี่ยวหัวใจสุดไกปืน pic.twitter.com/jpjvGiUuM7

— P. (@Pop_cornCheese) July 1, 2017
"Shadow Team ready for action. Look at these soldiers lacking love! They're all so handsome!," tweeted @Pop_cornCheese on Saturday.
เป็นละครที่อุดมไปด้วยผู้ชายหล่อและกล้ามแน่นๆ #เหนี่ยวหัวใจสุดไกปืน pic.twitter.com/9WFcWSQmgt

— CAPTAIN B ´ᄉ` (@fingers_baek) July 1, 2017

"This lakorn is full of handsome guys with tight muscles," tweeted @fingers_baek on Saturday.
The second installment, "My Beloved Royal Navy Officer," follows naval officer Lt. Jirawat "Tonglaa" Sookplang, played by Akkaphan "Om" Namart, and Praew, played by Sammy Cowell, a journalist and romance novelist as they investigate illegal fishing.
In "Heartslayer," Saran "Porche" Siriluksana is Police Capt. Kanin Werot, head of Special Unit on Office of the Narcotics Control Board and Usamanee "Kwan" Waitayanon is journalist Mintra, both of whom arrest international drug traffickers.
Finally, in "Dominate the Skies and Your Heart," Flight Lt. Karan Hanyothin, played by Mick Tongraya, who flies an F-16 fighter jet in the air force, falls in love with Irene Airya, played by Stephany Auernig, a doctor who found the cure to cancer and is therefore hunted by "chemical terrorists."
All four people's efforts finally destroy Black Iron, their extremism and their drug network. Peace returns to Thailand as all four couples marry.
Pasavit said it is yet to be seen if the drama he sees as a public relations stunt for the military will be successful.
"I can't say for sure. Media is representation and representation depends largely on interpretation. So the consumer's political standpoint will have a big role in it," he said.
"Love Missions" will air at 8:15pm from Friday to Sunday until the end of September on Channel 7. Each part of the series will last 10 episodes. They can also be watched online.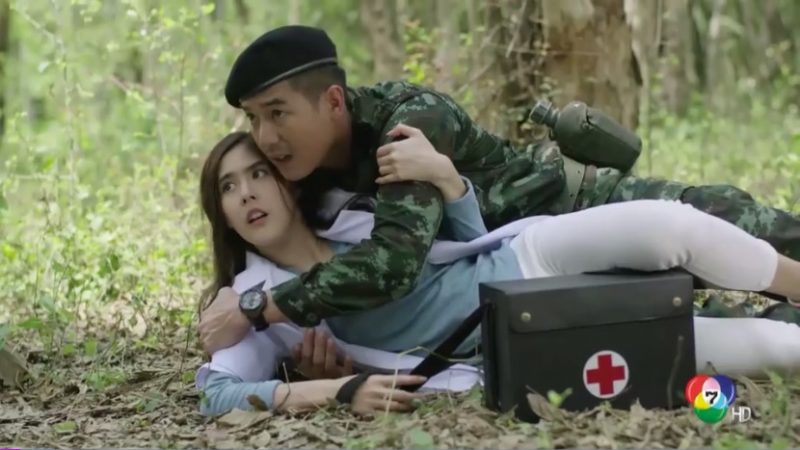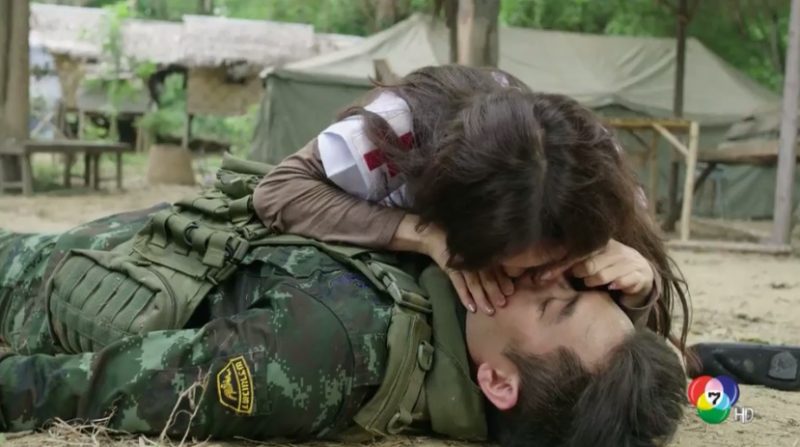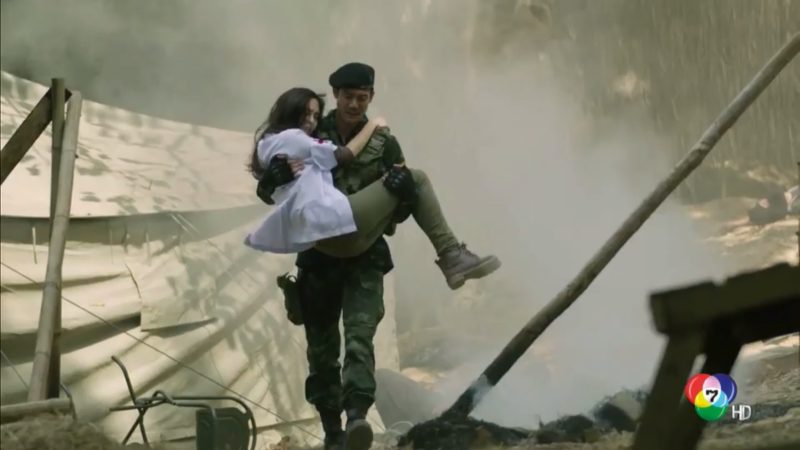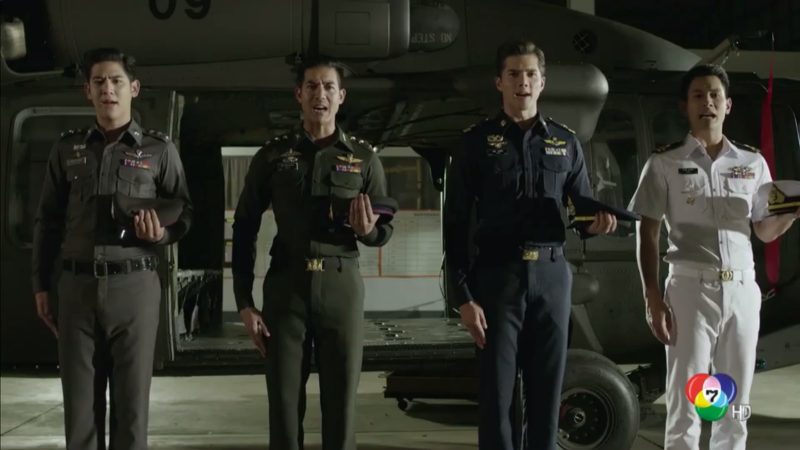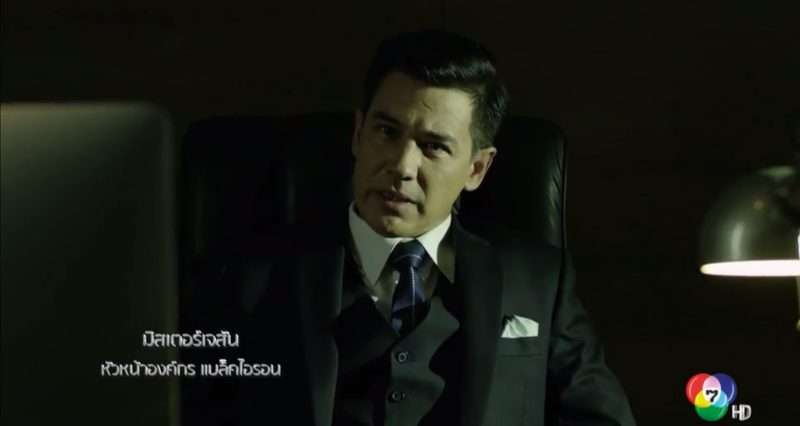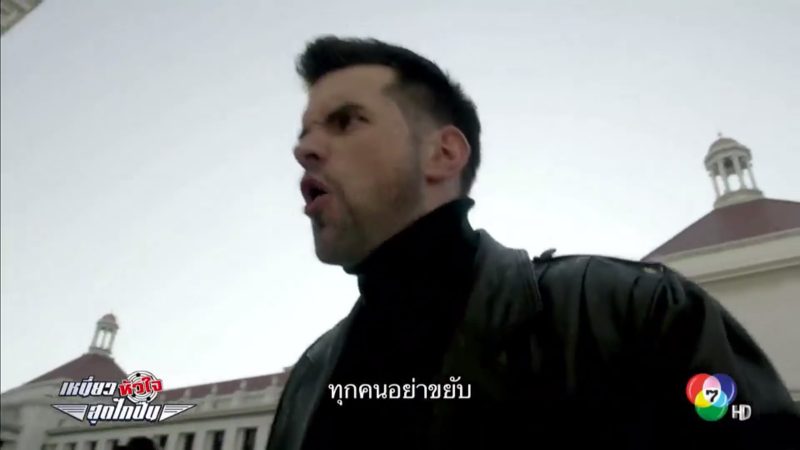 Related stories:
Great-Grandson of Last Burmese King Wants Thai Soap Canceled
Thai Soap Offends Burmese With Royal Caricature
I Was Born In the Reign of Rama IX: The Series