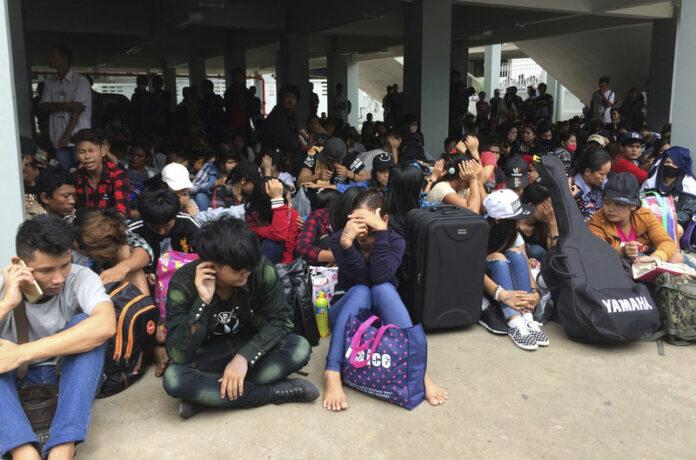 BANGKOK — Thailand's military government used a special executive order Tuesday to delay implementation of a recently introduced labor law after tens of thousands of migrant workers fled the country fearing punishment under the new rules.
Prime Minister Prayuth Chan-ocha invoked the order to suspend parts of the law that took effect June 23 to crack down on unregistered foreign migrant workers. Prayuth's order sets a new deadline of Jan. 1, 2018, for registration.
At least 30,000 workers from neighboring Myanmar, Cambodia and Laos returned home, fearing they could be imprisoned for up to five years for not being properly registered. Many may have been dismissed without compensation by their Thai employers, who would be subject to fines of up to 800,000 baht ($23,500) for employing unregistered workers.
Although human rights workers pointed out the difficulties experienced by the workers, the government appeared to be more concerned about employers' complaints that their businesses were suffering. Prayuth invoked Article 44 of the constitution imposed by the military after it seized power in 2014 which gives him virtual emergency lawmaking powers.
There are an estimated 2.6 million foreign workers in Thailand, half believed to be working illegally.
Prayuth said Tuesday his order was necessary to avoid problems that the new labor law could bring to the economy.
"If we just leave it then it will be bad for the economy, so we have to work together. Don't believe it when they say the government is causing problems for workers," he said.
Deputy Prime Minister Wissanu Krea-ngam said Tuesday the order would extend registration deadlines and delay the imposition of four sections of the new labor law by 180 days. The amended law includes articles that deal with penalties for foreign workers and employers, and sections about unreported and unlicensed workers.
Wissanu said the law's implementation has been delayed to allow time for foreign workers to acquire proper registration, which takes around two months.
"Setting a timeframe of six months allows workers to shuffle shifts and prevents issues where there is a lack of workers," he said.
Wissanu said the order could also increase the maximum fine for employers with unregistered foreign workers to 1 million baht ($29,400) if the previous cap of 800,000 baht ($23,500) was deemed insufficient.
Tuesday's order also warns government officials dealing with migrant workers against unethical behavior to accrue financial benefits, an apparent reaction to reports that officials extorted payments from employers or migrant workers.
Story: Kaweewit Kaewjinda 
Related stories:
Activists Slam Law That Spurred Panicked Exodus of Workers
Junta To Use Article 44 to Delay New Migrant Law