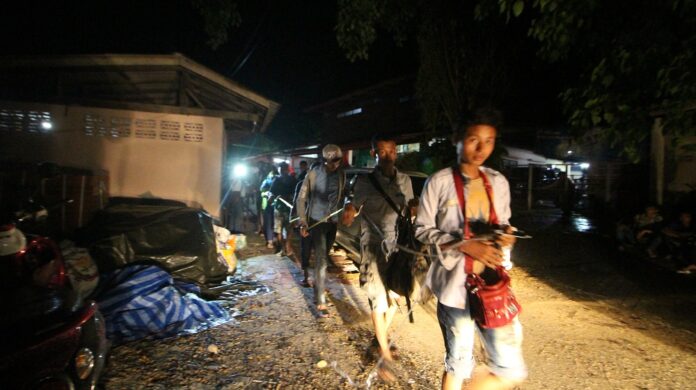 BANGKOK — Under a new migrant worker law, employers involved in human trafficking face jail time and fines of up to 1 million baht.
The 2017 Decree on Migrant Worker Management went into effect four days before the US Department of State released its annual Trafficking in Persons Report on Tuesday. Thailand remained on the Tier 2 Watch List in the report, in the same cohort as Rwanda and Serbia.
"The purpose of this decree was to modernize the law and make it more applicable internationally," Director-General Woranon Pitiwun of the Labor Ministry said Saturday. "Let me emphasize that the law is not meant to only punish, because we publicized the law to employers two months before it went into effect."
Read: Thailand Should Prosecute Officials, US Says in Trafficking Report
The law addresses those involved on the supply side of trafficking. The first recommendation in the American trafficking report released Tuesday was for Thailand to bring to justice those officials who enable or profit from trafficking.
Unlike previous labor laws, the new law punishes employers for every illegal migrant worker hired instead of a flat fine. For every illegal worker hired, employers may be fined 400,000 baht to 800,000 baht.
Making a migrant worker perform work different from what is authorized by their work permit is punishable by up to 400,000 baht.
Some fines target human trafficking specifically. For example, if an employer or individual confiscates a migrant worker's permit or important personal documents, the employer faces a six months jail term and a 100,000 baht fine. Agents who provide trafficked migrant workers to employers face a maximum penalty of up to 10 years in prison and fines of up to 1 million baht per worker. Middlemen who run trafficking operations can be punished by up to three years in prison and a fine of 600,000 baht.
Fines for the workers themselves also increased. Migrant workers who work without a permit, perform work off-limits to foreigners, fail to register or do work other than they are permitted face a maximum penalty of five years in prison and a 100,000 baht fine.
Correction: An earlier version of the article referenced the US Department of State's 2016 Trafficking Persons report. This has since been corrected to reflect the finding of the 2017 report.