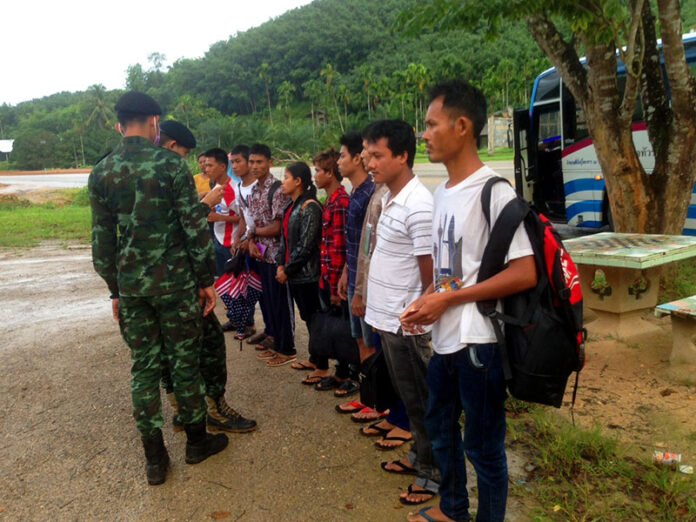 BANGKOK — The National Council for Peace and Order announced Friday it will use its absolute power to delay implementation of a law that would levy heavy fines on employers of illegal migrant workers.
Wissanu Krea-ngam, junta legal adviser, said it will use Article 44 to delay by 120 days the new law to allow both employers and workers time to adjust to the regulations. Wissanu did not say when the junta order would be carried out.
Read: New Migrant Law Levies Heavy Fines On Employers
"We will delay the law by 120 days because we want illegal migrant workers to sort out their documents first. They have three options to do this: in their own country, at the border or at the five Nationality Verification Center for Myanmar People in Thailand," Wissanu said.
Wissanu said the law would allow migrant workers who were not working in the province stated on their work permit the necessary time to submit documents to comply with new legislation.
Since the law went into effect on June 23, employers in Tak province have been deterred from hiring Burmese workers according to Thai and Burmese officials at the Mae Sot border. On Friday, more than 400 Burmese people returned to Myanmar through the checkpoint at Mae Sot in Tak.
Mong Jo, 25, a Burmese worker who returned to Myawaddy through Mae Sot Friday, said he had to pay a middleman 3,000 baht to find work for him at a factory.
"When I got to the factory, they didn't hire me because he was afraid he would get caught by the police," Jo said. "So, I have to go back home to Myanmar. I don't have any money for travel because I paid it all to the middleman."
Correction: This article was modified to reflect the correct date on which the new law was passed from July 23 to June 23.