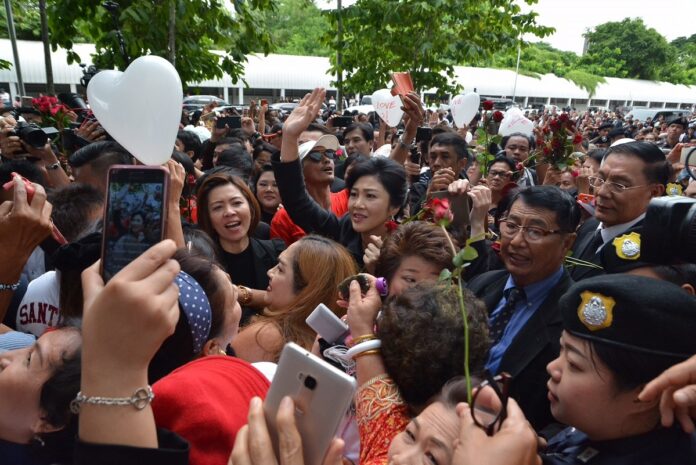 BANGKOK — A lawyer for former premier Yingluck Shinawatra said Monday authorities should delay their attempt to seize her bank account assets as compensation for damages caused by her government's signature agricultural subsidy program.
The Ministry of Justice announced Monday it will go forward with a plan to seize 12 bank accounts owned by Yingluck per a government order she repay the state 35 billion baht allegedly lost under her administration's rice price-guarantee policy. The former leader is also being tried on a charge of malfeasance for overseeing the program.
Calling the seizure "unprecedented," lawyer Noppadol Laothong said officials should wait for a court order first before making any move.
"They should not proceed on their own without a court order," Noppadol said by phone, adding that he has filed motions with the court and ministry to stay seizure of her assets.
A spokeswoman for the Legal Execution Department declined to comment, saying details of the case can only be disclosed to the accused party.
Junta leader Prayuth Chan-ocha, who as prime minister has sought to undo the Shinawatra political legacy, has threatened Yingluck's supporters with legal action if they gather in support of her when the court delivers its verdict on Aug. 25.
Yingluck served as prime minister until she was ousted in May 2014 amid street protests led by an ultra-conservative faction that sought to replace her with a royally appointed ruler.
Three weeks after she was removed from post, the military seized power. The junta later announced in late 2016 that it would make Yingluck pay for 35 billion baht worth of damages that allegedly occurred under her rice subsidy, which experts said was fraught with corruption.
Yingluck's lengthy trial was also for a charge of malfeasance, an offense that carries up to 10 years in prison. Her last court hearing took place Friday.
Related stories:
Yingluck Rice Subsidy Trial to Stretch Through End of Next Year